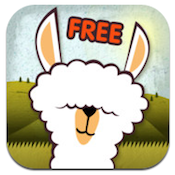 Price: Free Score: 8.5/10 Category: Games
Alpaca Farm, developed by Pomegranate Group, is a fun, cute iPhone game that requires fast fingers and even faster mental reflexes. If you love "tap happy" iPhone games, you'll want to play this farm fresh title until your fingers bleed.
Playing Alpaca Farm couldn't be simpler: use your forefinger to tap on the screen, and avoid tapping the wrong thing. Generally, you'll be trying to tap on cute little alpacas, while avoiding foxes (other times, you might be trying to weed out the males alpacas from the females in the milking area.) Also, you'll need to watch out for those meddling rival farmers, who are sure to try and mess things up on your own alpaca farming operation.
The controls are wonderfully responsive, a must for any game in this popular "tap happy" genre of mobile games. No matter how small the alpacas are on screen, its easy to tap them accurately and quickly.
Generally speaking, you have under a minute to tap as many animals as you can. The more animals you tap, the higher your score will be. But make a single mistake during the time allotted, and you've got to start all over again: a feature which annoys some players while helping others to excel.
The graphics in Alpaca Farm for iPhone are great, and manage to be cute without getting too saccharine. The gameplay itself is very smooth, with no crashes or glitches noticed during play testing.
While the levels may be a bit repetitive and the gameplay a bit stale in extended gaming sessions, as a casual time waster, Alpaca Farm is tons of fun. Suitable for adults, as well as kids who want to develop faster reflexes and better hand-eye coordination skills, Alpaca Farm is a great free iPhone title. Pick it up, and you'll become an "Alpaca Tappa," too!
Alpaca Farmis compatible with iPhone, iPod touch, and iPad. Requires iOS 4.2 or later. A small expedite fee was paid by the developer to speed up the publication of this iPhone game review.