On Monday Apple released it's annual iTunes list of best iPhone apps and games, and pretty much everything iTunes related of 2014.
Apple's iTunes best-of lists are curated, similar to Google's Android end-of-year review, though draws heavily on popularity of items in the iTunes store throughout the year. Thank God too, or we'd never see the end of that little blue and white F logo. So what were the best iPhone apps and games of 2014?
Best iPhone App of 2014 Goes To…
Taking top spot on the Apple fireplace for free iPhone apps is Elevate which boasts 5 million users after only 6 months on the digital shelves. The "personal trainer for the brain" edged out popular and highly advertised rivals Lumosity and Peak-Brain Training to be top dog in Apple's eyes,for"great design, the best progress tracker, loads of interactivity and smart daily motivation reminders." Created by Jesse Pickard who came from a background working on SAT preparation material, Elevate offers 25 games to boost users' vocabulary, maths and memory skills.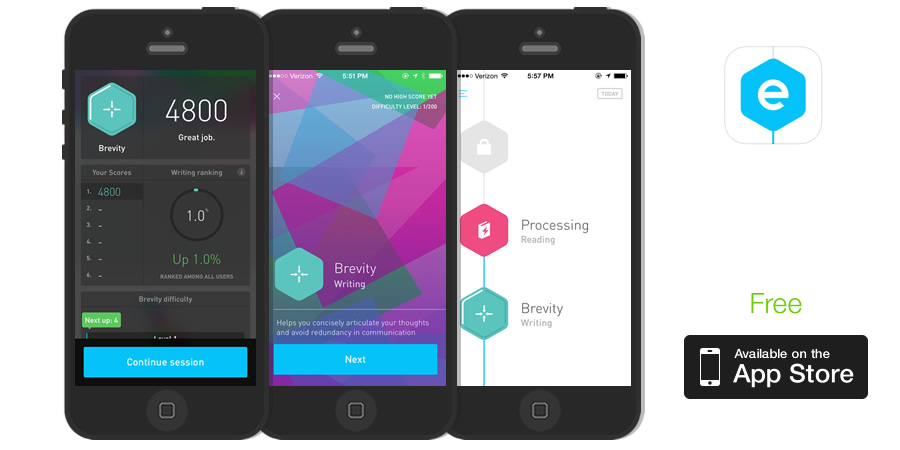 Elevate – Brain Training has a premium option for $5 a month, but the free option is still stacked with functionality. We highly recommend you check it out if you haven't already, here.
Best iPhone Apps Runner Up
All hail #selfielapse! Runner up in the category is Hyperlapse, the timelapse and image-stabilising iPhone app from Instagram that probably flew under your radar if you're not a big iPhone camera user. Released in August, the free iOS exclusive program allows users to create time-lapse videos with a 'cinematic look, quality and feel', something previously difficult to achieve without the right equipment. Breaking trend, it doesn't require an Instagram account, but users of the platform will still enjoy easy sharing features. Grab it here.
Best iPhone Games and More Awards for iPhone Apps
Numbers based puzzle game Threes! Was declared iPhone game of the year in the 2014 iTunes best-of list. It's a simple concept but insanely addictive – we've lost hours of productivity to this game here at Tapscape already. It takes strategy to get on top of but that's part of the charm. If you love logic, maths and thinking quick,& haven't downloaded this one yet, stop reading immediately and grab it here.
Leo's Fortune grabbed second in the games category, an accolade the video game's fluff-ball hero Leopold would most certainly be proud of.
Other winners in the iPhone apps category included Facebook's Paper, Uber, Storehouse, 1Password and keyboard app Swiftkey.