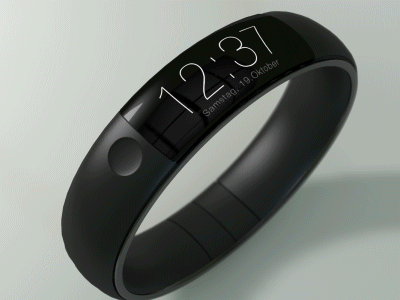 Wearable computing is just around the corner. Right now, Samsung Gear is an abject failure and products like the Pebble watch and Nike FuelBand are more like rolling betas — not the real deal. Pretty much everyone, including Samsung, Pebble and Nike, is waiting to see what Apple will deliver with the iWatch.
Well, Nike Fuel Band user and Apple fan Thomas Bogner stopped waiting and put his wonder to work and create the above concept, which marries iOS 7 and Nike's interesting, yet far from complete bracelet.
Will the real Apple iWatch look anything like Bogner's hybrid FuelBand rendering shown above? That's extremely unlikely, though it's an intriguing idea.
For example, Apple CEO Tim Cook not only sits on the Nike board of directors, he's regularly seen wearing a FuelBand.
"I think Nike did a really great job with this," he said at the D11 conference. "The [wearables] that do more than one thing… aren't great,"
Needless to Apple's CEO is a fan, but also clearly skeptical of the wearable technology products currently available.
So, will Apple release or even introduce the iWatch at tomorrow's Apple Event? That's also extremely unlikely.
Nevertheless, that won't stop us from thinking about the iWatch.
What's your take on Thomas Bogner's iWatch + FuelBand concept?
Via 9 to 5 Mac