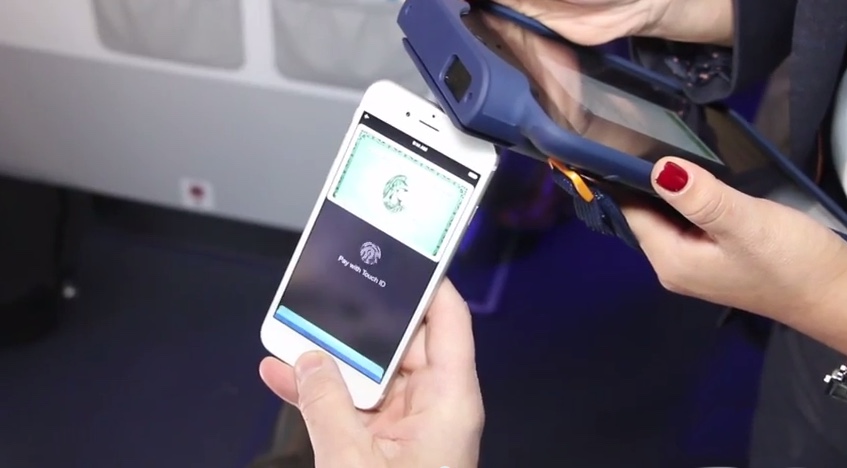 All of those NFC based mobile payment systems of the least few years? Forget about them because Tim Cook's first universe denting product is here. Yep, Apple Pay has not only taken over the mobile payments space here on terra firma, Apple Pay is now taking to the skies with bargain carrier Jet Blue.
According to USA Today's Ed Baig, passengers on select domestic JetBlue flights will be able to use Apple Pay to purchase food, drinks and certain onboard amenities once they hit cruising altitude.
"The sky is definitely not the limit when it comes to mobile payments with Apple Pay," says Marty St. George, a senior vice president at JetBlue.
"Somebody else doing it always puts pressure on the other guy," says Eddy Cue, senior vice president, Internet software and services, Apple. "Most people would prefer not to carry cash or worry about cash. There's a lot of opportunity there."
Which just goes to show you, mom and dad, that peer pressure really is a good thing.
See also: Galaxy S6, Samsung Pay to Challenge Apple Pay
Also joining the Apple Pay club, in an even bigger way, ChowNow has updated its service with nearly 700 food and restaurant apps, which come in addition to the thousands of restaurant and eating establishments, like McDonalds and AppleBees, that already accept Apple Pay.
The Friendly Skies of Apple Pay
Apple Pay has grown exponentially, both in terms of use age and supporting retailers by delivering Cupertino's patented secret sauce of ease-of-use, style and reassuringly expensive gadgets and services.
However, perhaps the most important factor driving Apple Pay adoption is ubiquity — well over 90 percent of credit issuers support Apple Pay.
So, whereas flying JetBlue is little more than a glorified cattle car in the sky, the next time you fly them, you won't need to reach for you wallet or credit card.
Apple Pay, it's (almost) everywhere you want to be…
What's your take?
Via: MacRumors