Apple will integrate Shazam in iOS 8, according to a new report from Bloomberg. The website's sources state that by integrating the application into iOS 8, users will be able to carry out song recognition from within Siri.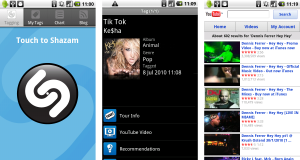 At least one person has told Bloomberg that users will be able to provide a command like "what song is playing" and because Shazam is built into the operating system, Siri will come back with an answer.
Shazam has long been one of the most popular mobile applications as it was the first app to actually provide song information within a matter of seconds. Apple has already started to work with other independent apps like Twitter in order to integrate them into iOS, so the Shazam partnership is plausible.
Apple has continued to add more music-related features to iOS in order to bolster the popularity of iTunes. Services like iTunes Radio have already become popular and once Radio is available globally, Apple may be in a better position to compete against apps like Spotify and Pandora, both of which have hurt the company's music sales.
With the WWDC 2014 less than two months away on June 2, Bloomberg says that the company will unveil iOS 8 and the Shazam integration during that event.
Neither Shazam nor Apple are confirming or denying the claim but as Apple tries to find new ways to make iOS interesting, Shazam integration may be a great feature for music lovers.
The report also talked about iTunes Radio, with some sources saying that Apple is at least considering releasing the service as a standalone application. Though it is hard to see the benefit of doing this–having apps built into an OS is generally best–anything is possible.
No matter what Apple decides to do with its upcoming operating system, iOS 8 needs to be a worthwhile upgrade from iOS 7–just like the iPhone 6 needs to be substantially different from the 5S–in order to keep people interested in the platform.
Question – Would you like to see Shazam integrated into iOS 8 with Siri support?
Summary

: Apple may be working with Shazam in order to include the app in iOS 8. Shazam may be integrated into the upcoming OS which would allow people to carry out music discovery from within Siri as well.

image credit: whatshub