Apple is always a company that is top of the innovation game, and it looks as if Apple are exploring the boundaries of powering mobile devices. According to a current Apple job posting, the company is in search of a thin films engineer for its Mobile Team.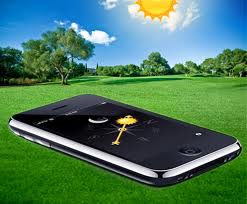 The engineer posting for extensive experience in film technologies focuses on semiconductor processing or solar industries. It appears that Apple is looking to tackle the ever increasing problem of powering their iPhone. As devices begin to incorporate more and more functionality, they also require more power. But since devices are getting increasingly thinner, the room for bigger batteries is running out, forcing companies to look for alternatives.
Apple look like they are doing just that if this job posting is anything to go by. It would appear they are investigating the possibility of powering devices using solar energy. We may not be too far away from this technology either given the fact the position states it will involve working with suppliers to deliver scalable manufacturing processes.
Apple Solar iPhone
Key Qualifications

Extensive experience with thin-film technologies in either semiconductor processing or solar industries
Exposure/experience with Sputtering, Vacuum evaporation, Electroplating and related technologies
Deep understanding of the vendors, equipment, and technologies in the thin-films ecosystem
Experience/background working with Asia-based manufacturing suppliers
Desire and ability for problem solving and debugging
Ability to work with a wide range of people with varying degrees of experience
Knowledge of thin-films in the context of RF shielding is highly desirable
Strong documentation and communication skills
Experience in the semiconductor manufacturing or solar manufacturing is desired
Experience in new process development and process integration

Description

Work with Asia-based suppliers to develop thin-film deposition technologies
Scope and select suitable thin-film processes, execute design of experiments, down-select to the appropriate technology for mass production
Provide engineering support for product builds at the factory
Work with Operations teams to support factory build-up as required
Developing solar energy would enable Apple to offer unprecedented battery life of their devices, which has gone relatively unchanged over the generations of iPhones', as their function and processing increases.
Whilst it's obviously still early days, since it's only a job posting, it does look promising that we may see renewable energy making it onto iPhones' in the not too distant future.