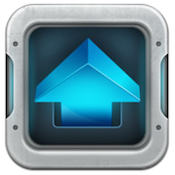 Price: Free Score: 9/10 Category: Games
Love a puzzler with a challenge? Then you'll loveArrows Puzzle Game, a free iPhone game developed by Local Aliens LLC.
Arrows Puzzle Game, like any great puzzler, features a blend of simple mechanics and thought-provoking situations that you need to think your way out of. Gameplay is simple: slide the arrows around the screen, collect the stars in your path, and line up the arrows with orbs of the same color.
While Arrows Puzzle Game starts out gentle, things get tough in a hurry. The solutions to most of the puzzles are fairly straightforward, beating the level while obtaining every available star on the playing field is often much trickier.
The graphics in this original iPhone game are wonderful, and are complemented well by the energetic, fun soundtrack. The gameplay feels slick, expensive, and wonderfully addictive. Arrows Puzzle Game may not cost anything to download, but the overall appearance of this title makes this free puzzler feel like a pay-to-play outing.
Arrows Puzzle Game features over 80 levels, with your high scores being the key to unlocking bonus levels. Another incentive to go for the high score? Plenty of achievements to unlock, as well as the ability to compete with your friends on Game Center leaderboards to get bragging rights over your buddies. Who doesn't love that?
The more you play, the more fun Arrows Puzzle Game becomes. As you progress through the various levels, you will unlock new moves and play techniques, such as the transporter, which you can use to move an arrow to another location on the game board.
Hardcore puzzlers, Arrows Puzzle Game for iPhone is a must-play title. Casual gamers will also enjoy Arrows Puzzle Game: it's accessible, addictive, amusing, and absolutely awesome.
Arrows Puzzle Gameis compatible with iPhone, iPod touch, and iPad. Requires iOS 3.2 or later. A small expedite review was paid by the developer to speed up the publication of this iPhone game review.