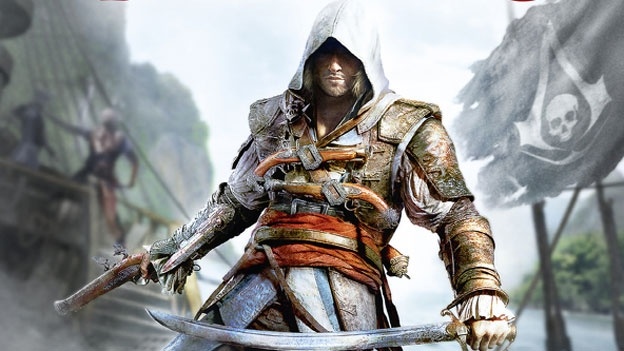 Ubisoft has confirmed floating rumours that their Montreal division was already working on a new AC game, shortly after the third one received generally average reviews. Assassins Creed IV: Black Flag will be the fourth in the series, with a new protagonist and setting.
Assassins Creed 3 had a huge amount of hype surrounding it, with fans desperate to finally move away from the land of Ezio and into the more recent development surrounding the war between the Templars.
What they got was an unimpressive main character, a patchy storyline and a linear amount of side-missions. Many enjoyed AC3, but many more found it to be a little underwhelming for a game with so much hype.
This may be part of the reason why Ubisoft is wasting no time getting rid of dull protagonist Connor Kenway, and hopefully replacing him with a more loved and exciting character, as Ezio was to the Assassins Creed fans.
Recently rumours have placed the timing at a few decades before the liberation of America from the English, and the setting may be in the land of pirates. The Assassins Creed IV: Black Flag gives away the fact pirates will play an important role in the game, and the protagonist may be Kenway's grandfather. Hopefully he has the same British accent as Connor's father had.
This all points to a more sea-based, sword battling game, moving away from the Assassins original route of slow motion stalking and quick paced engineered assassinations. This is good and bad, and many will have different opinions.
Ubisoft announced Assassins Creed IV: Black Flag with a piece of art and a tweet; "We confirm that Ubisoft will announce all the details of Assassin's Creed IV Black Flag on Monday March 4th at 5pm GMT.", which is a week and a bit away.
We expect the game to come on both PS3 and PS4 and possibly the next generation Xbox, if it ever gets unveiled. With Ubisoft's strong ties to Nintendo, they may make a Wii U version as well, although we cannot count on that.
Assassins Creed IV: Black Flag may restore the enjoyment felt in the AC series, but the main question is will the gamers be able to continue to enjoy the game after it has ended?
[Source: T3]