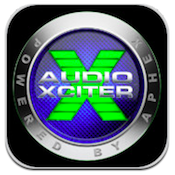 Price: $4.99 Score: 9/10 Category: Music
Audio Xciter Studio, developed by Aphex, bills itself as "the better music player." Does this iPhone app live up to its own self-created hype, or does it fall short of user expectations?
Right off the bat, Audio Xciter Studio for iPhone gets big points for a very cool feature in the latest version (Version 1.1) This update has been optimized for 80% less battery drain. For anyone who constantly listens to their music during the day and can't get to a phone charger, this is great news.
But the real win here is the audio quality. When you can get a quote for your App Store page from the legendary Alan Parsons, you've clearly done something right. As Parsons put it, "The Audio Xciter app brings musical detail to life, no matter what style of music you're listening to."
At its core, Audio Xciter Studio simply brings out the details in your music that are otherwise lost due to compression. There are three professionally tuned presets available, allowing you make the settings just the way you like them.
I listened to a couple of tracks back to back in the built-in Music app and then in Audio Xciter Studio. While the differences are slight, they are noticeable. The tracks I listened to in Audio Xciter Studio had richer-sounding vocals and cleaner hits on the cymbals and snare. They really did sound better.
With full AirPlay support, a familiar design that makes navigating easy, and wonderful audio quality, Audio Xciter Studio for iPhone is definitely worth checking out for casual listeners and hardcore audiophiles alike.
Note: This app cannot play DRM encoded audio. This is a limitation imposed by the publishing company – not by Apple or Aphex.
Audio Xciter Studiois compatible with iPhone, iPod touch, and iPad. Requires iOS 5.0 or later. A small expedite fee was paid by the developer to speed up the publication of this iPhone app review.