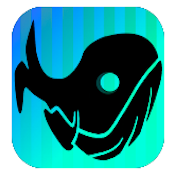 Price: $0.99 Score: 8/10 Category: Games
Beach Whale is a side scrolling iPhone game developed by Dingle LLC that lets you play as one of many different types of whales. Your goal: ride the waves, avoid sandbars, and keep up your speed!
Controls for Beach Whale are super simple: tilt the device to move your whale up or down, and try to use the waves around you to build up your speed. As you move across the screen, you want to collect all the fish you can find. These fish, in turn, can be used to purchase new levels for you to try out.
Fish can also be used to purchase different whales, like the humpback, orca, and blue whale. You can also upgrade to two other whale-like animals: the whale shark, and the hilariously-named fat dolphin. Each whale (or whale-like avatar) has its own set of attributes: some of these creatures are faster than the rest of your options.
But catching those all-important fish is tougher than you might think . If you don't line your mouth up perfectly with the fish in front of you, you will miss it. You also need to watch out for crabs, which won't help you out in the least.
Beach Whale is an enjoyable side scrolling game, but its main flaw is the speed with which you move. To be fair, real life whales are a bit slow-moving in the water as well. However, especially in its early levels, Beach Whale moves incredibly slowly. What should be an addictive, exciting first few levels just feels a bit drudgy.
While Beach Whale might not be the prettiest game on the App Store, it's still worth checking out, particularly if you're looking for a game for your marine biologist-wannabe kids. While the graphics are a little stale and the early levels are slow-paced, Beach Whale is still fun to play.
Beach Whaleis compatible with iPhone, and will be released on the US App Store on November 26th, 2012.
Want to see more? Check out the official game trailer for Beach Whale here.