Another day at your computer and another day with wrist pain, finger cramps, and even headaches. It could be that it's time to ditch that old traditional mouse and try a vertical mouse instead. They are known to reduce computer related disabilities such as carpal tunnel syndrome.
A vertical ergonomic mouse puts the hand and wrist in a neutral position, mimicking a handshake hold, instead of the somewhat twisted position which is known as pronation which you get with the standard mouse.
The 5 vertical mice mentioned here will all put the hand, wrist and arm into this sought after neutral position so that muscle strain is reduced.
This regular sized right hand mouse has been designed and sculpted to be held with 4 fingers on one side of the mouse and the thumb on the other side. No uncomfortable and harmful twisting of fingers to operate this mouse. It is comfortably supportive and comes with scroll wheel, left and right-click mouse buttons as well as a center button. Engadget concludes that this mouse will give you relief from wrist strain.
The adjustable DPI of 800 to 2,400 is adequate for normal users. The mouse features 2 thumb buttons, with the now inclusive bottom thumb button giving even more functionality. With Pointer speed controls indicated by LEDs, you can conveniently make adjustments without the need to release your grip from the mouse.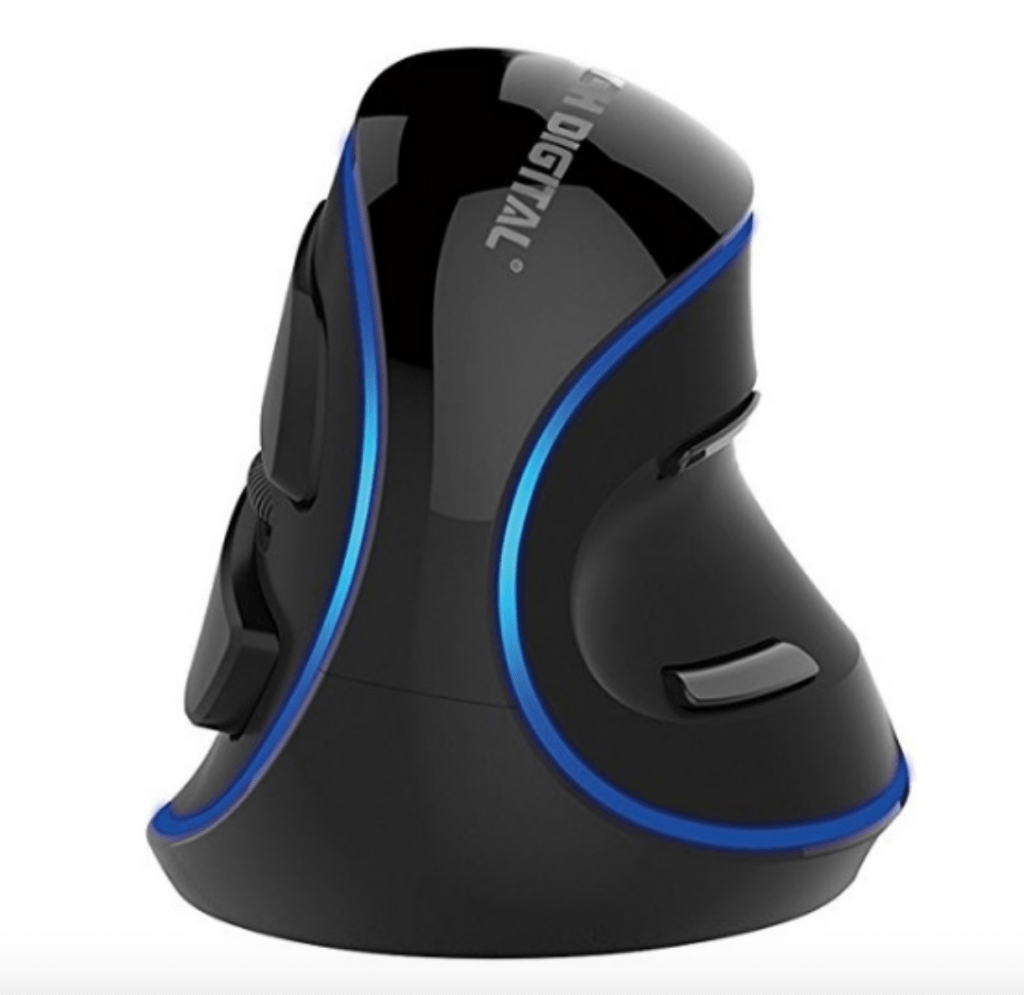 ErgonomicTrends.com awarded the J-Tech Digital V628 a place on its best ergonomic mouse list for 2018. This ergonomic mouse, suited for right-hand people, promises to feel more natural and comfy in your hand. At 5.8 inches tall and 4 inches deep, the larger J-Tech is easier to grip and has a removable rubber palm rest. This is hugely useful as it actually cushions your wrist, allowing for use hour after hour. You'll find 2 large buttons on the right side of the J-Tech. These are for right and left clicking.
There is a scroll wheel between these 2 buttons as well as back-and-forth buttons on the left side. The mouse's optical tracking lets you choose 3 levels of sensitivity – 600-, 1000- and 1600 DPI resolution. You'll find this superbly designed vertical mouse available in a wired- and wireless version.
Compact and great for people with smaller hands, this wireless ergonomic mouse which is 4″ long, 2.¼ high and 2½" wide, is designed to last. This is because of the low impact clicking mechanics which have been tested for more than 5 million clicks. You hold the mouse without twisting of the wrist.
The mouse has a vertical scroll-wheel on the top, and above the thumb-rest are the back and forward buttons. You get 3 adjustable DPI sensitivity modes with the Jelly Comb – 800-, 1200-, and 1600. The mouse operates on a single AA battery but this isn't included. With 2.4G wireless technology, you simply plug the wireless receiver into your computer's USB port.
Sleek, futuristic looking and sexy, this vertical mouse has been designed with comfort and excellent functionality in mind. It comes with 3 levels of adjustable resolution – 800-, 1200- and 1600DPI. The ergonomic USB 2.4G mouse, compatible with Linux, Mac and Windows, ensures fast, reliable connections. With its smooth and comfy contours, your hand and wrist is supported hour after hour.
The Anker vertical mouse with its 18-month warranty also goes into power saving mode once it has been idle for 8 minutes. This saves on the battery. Compact and wireless, a comfortable vertical grip reduces wrist pain and stress. With lateral-access back- and forth buttons and a budget friendly price, with this mouse, you're guaranteed a superbly comfortable gaming or working experience.
Conclusion:
If you've had issues with using a regular mouse and you're battling with carpal tunnel syndrome, make the switch to a natural position when using the mouse. Benefit from your wrist remaining in a comfortable, neutral position.
With the modern, cool looks of these popular vertical mice, you've also got an inexpensive solution that alleviates- and prevents wrist pain. On top of that, the different grip also assists with shoulder pain as it also forces you to hold your shoulders in an externally rotated position, which ensures a reduction in abnormal tension in the shoulders.