Once lucky, twice blessed and five times? Apple's MacBooks have been named, for the fifth year running, the best laptop brand. What else is worth buying? Step inside for a quick look at the best of the rest.
When it comes to notebook buying advice, there are two publications that stand out, Laptop Mag and PC Mag. So, according to these sage voices, what is the best laptop? Apple.
Best Laptop: Laptop Mag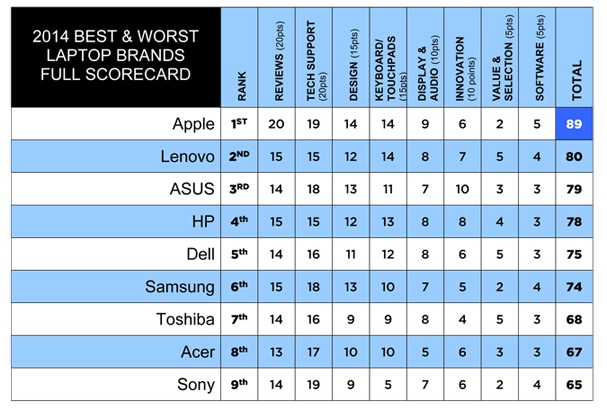 Apple's MacBook Pro has been named the best laptop in Laptop Mag's annual roundup for the fifth time in a row. If you have been to a tech conference in recent years — wall-to-wall MacBooks — you know that judgement is sound:
For a remarkable fifth year in a row, Apple has proved once again that it's still the gold standard of laptop makers. The Cupertino, Calif.-based company won four of eight categories outright, and tied for first in two others. A perfect score in the Reviews category is nearly unheard of, but Apple pulled it off with ease. Tech support is nearly flawless, as is the company's design, keyboards and displays. The useful and intuitive preloaded software is yet another plus — Mark Spoonauer, Laptop Mag
As shown in the chart above, Lenovo, Asus and HP all earned roughly the same rating overall. Although it always pays to s
PC Mag's Best Laptop
The Apple MacBook Pro 15-inch is the Retina Display-equipped system that power users have been waiting for. Take last year's excellent Retina Display upgrade and thinner chassis, then add a powerful Intel Core i7 processor with integrated graphics that performs like discrete graphics, and what do you get? It's the pinnacle of laptops designed for über-picky power users who need to take their time-sensitive projects with them — Joel Santo Domingo, PC Mag
What laptops are next on PC Mag's best of 2014 list? Interestingly enough an Acer places second and — would you believe? — another MacBook Pro, the 13-inch model, has earned the number three spot.
So, what's in your backpack or laptop bag? More importantly, what are you planning to buy?
Sound off in the below…