Planning to play to latest BioShock entry on your PC instead of a console? Then today's update is most certainly geared towards you. We've got the minimum and preferred PC specs required for BioShock Infinite. Read on below to find out if your gaming rig is up to snuff.
MINIMUM

OS: Windows Vista Service Pack 2 32-bit
Processor: Intel Core 2 DUO 2.4 GHz / AMD Athlon X2 2.7 GHZ
Memory: 2 GB
Hard Drive: 20 GB free
Video Card: DirectX10 Compatible ATI Radeon 3870 / NVIDIA 8800 GT / Intel HD 3000 Integrated Graphics
Video Card Memory: 512 MB
Sound Card: DirectX Compatible

RECOMMENDED

OS: Windows 7 Service Pack 1 64-bit
Processor: Quad Core Processor
Memory: 4 GB
Hard Drive: 30 GB free
Video Card: DirectX11 Compatible, ATI Radeon 6950 / NVIDIA GeForce GTX 560
Video Card Memory: 1024 MB
Sound Card: DirectX Compatible

Infinite will also support AMD EyeFinity, NVIDIA Surround, and Matrox TripleHead2Go.
PC fans of Bioshock Infinite will be able to enjoy some of the game's PC-specific features such as the new benchmark tool. This basically gives PC gamers the ability to test out a wide variety of settings and which one works best for their setup.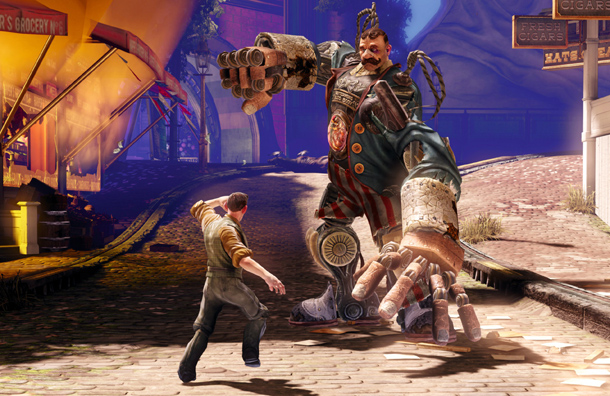 PC Gamer recently had a chance to speak with Christopher Kline, the game's technical director, and he revealed some of the challenges in developing BioShock Infinite, especially around Columbia's brightly-lit outdoor areas:
"Right from the beginning our rendering team was faced with the problem of supporting BioShock Infinite's much wider range of environments. To do this they had to implement a new renderer with entirely different approaches to lighting, shadowing, and level of detail. The resulting technology is a powerhouse that can handle not only the hugely expansive and brightly lit outdoor areas of Columbia, a floating city where everything is constantly moving, but also dark and creepy interiors similar to those in the original BioShock. Supporting these extremes well, and increasing visual quality at the same time, was an enormous challenge for the teams led by both Steve Anichini, our principal graphics engineer, and Spencer Luebbert, our Technical Artist. The result of all that hard work is the amazing world of BioShock Infinite—a place that BioShock veterans will instantly notice is both wondrously different and yet somehow… strangely familiar."
Looks like we've got a lot of things to look forward to with Bioshock Infinite. Gamers everywhere will be able to travel around the game's expansive new setting starting March 26.