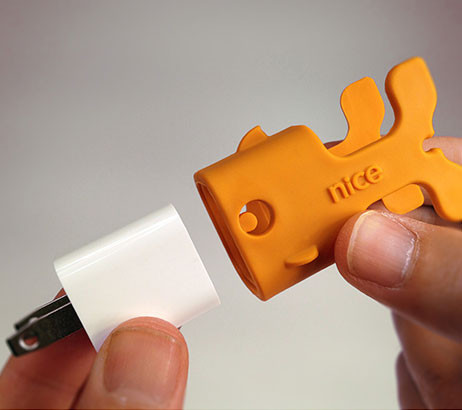 Introduction
Hello Tapscape, today I have an awesome product review for you, namely the clever CableKeeps devices by Nice By Design. Do you also hate it when your cables get tangled while traveling or are you clumsy like me and sometimes lose the wire to your charger? Then you don't need to look further because these plastic fishes are very cute, cheap and most important of all they get the job done! So let's dive into these little CableKeeps devices right away!
Goldie and Spikes
That's right, these things are named and not only help you get your cables right—they breathe life into your old, boring chargers. First of all we have Goldie, which can fit your iPod, iPhone and iPad Mini charger perfectly. Now Goldie is designed for U.S. chargers and as you can see on the photos it's an amazing tool to have when you're traveling in your car or need to swiftly store your charger in a bag.
The second one I got was Spike, which is meant for European charging sockets. Because I live in The Netherlands, I've been using Spike since I got it on my charger. Like the name suggests it comes in the form of a spiky fish, which is very handy since it gives you a lot more grip on your charger.
Spikes has really made things a lot easier for me when going to school and it has helped me tremendously in keeping my stuff nicely together. Did I mention that Nice By Design has been so thoughtful to include different colors for their products? When purchasing any of these you can choose your own color which makes them even more personal.
Nibbles and Gulp
Nibbles is meant to store iPad chargers and keep them secure and safe. It looks like a big fish almost swallowing the charger which is hilarious. I had absolutely no problems with using Nibbles and its been feasting on my iPad charger ever since I got it. Nice By Design has been very clever in adding dents at the back of the charger (look at the pictures) where you can finally put the cable of the charger to keep it locked firm and secure.
There is also a variant of Nibbles called Gulp, which works for both U.S. and Eurpoean chargers and comes in the form of a cute whale. For U.K. iPhone chargers you can also purchase Ink, concluding the products offered by Nice By Design.
Our conclusion
All the products of Nice By Design come in amazing quality and they just work wonders. I've been using Spikes and Nibbles on my chargers and not only me but my family simply adored the design. I have no worries of tangled cables while traveling to school anymore and I can absolutely recommend this product to any of you searching for some tidying in your life!