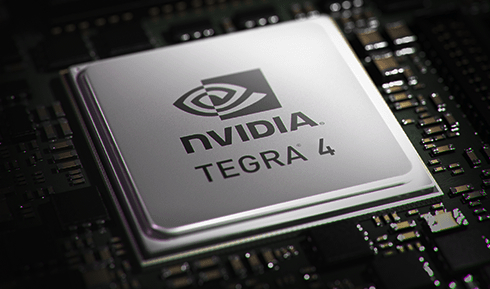 Powering Nvidia's new Project Shield, Nvidia have announced their new chip Tegra 4, which they claim is the world's fastest mobile processor.
Tegra 4 offers exceptional graphics processing, with lightning-fast web browsing, stunning visuals and new camera capabilities through computational photography.
The chip contains 72 GPU cores, which offers a 6x speed-bump over its predecessor Tegra 3, running at lower power meaning better battery life (45 per cent less according to Nvidia), combined with the first quad-core ARM cortex-A15, boosting web browsing by 2.6x and increasing app performance.
Designed for maximum energy efficiency, Tegra 4 includes a second-generation battery saver core for low power during standard use, and PRISM 2 Display technology to reduce backlight power while delivering superior visuals.

Tegra 4 consumes up to 45 percent less power than its predecessor, Tegra 3, in common use cases. And it enables up to 14 hours of HD video playback on phones.
Tegra 3 did not include an inbuilt LTE chip which meant another chip was required and this impacted battery life, which is why Tegra 3 was often not the chip of choice against the popular Qualcomm integrated setup. Unfortunately this is the case again with Tegra 4 so smartphones and tablets will require an additional chip once again for LTE support.
Tegra 4 also enables worldwide 4G LTE voice and data support through an optional chipset, the fifth-generation NVIDIAIcera® i500 processor. More efficient and 40 percent the size of conventional modems, i500 delivers four times the processing capability of its predecessor.
Nvidia is often associated with gaming given its history in the graphics card market so it's of no surprise that Tegra 4 is expected to just increase gaming capability and speed, that's why Nvidia has made it clear that it's not just the games that will be increased. Nvidia demoed a new imaging engine called "Nvidia computational photography engine". This utilises the Tegra 4's processing power to add automatic support for HDR photograph processing.
The Tegra 4 processor should be a popular choice for 2013 with smartphone manufacturers given its massive raw processing power, together with its reduced power consumption, so expect to see Tegra 4 widely adopted in the upcoming smartphone market.
[Source Nvidia]