[CES 2013] Samsung announces 8-core Exynos 5 Octa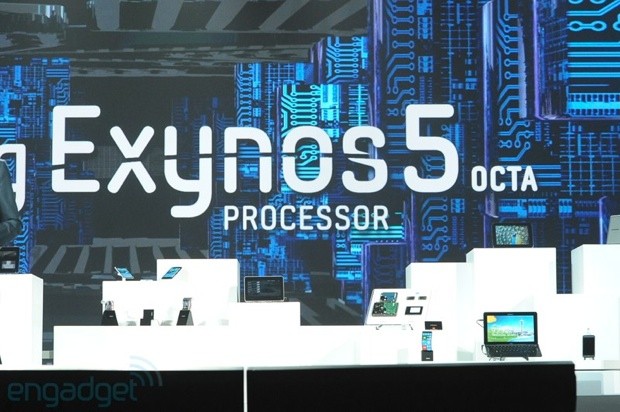 Samsung isn't just busy releasing new TV's at CES 2013, the company that never fails to impress has just released a new 8 core processor. This new processor is called Exynos 5 Octa and it uses ARM's new big.LITTLE processor technology which dynamically switches between processors to save on battery life. The Exynos 5 Octa will switch between two pods of four cores, using the ARM Cortex-A15 for performance, and then switching to the Cortex-A7 to handle lower demanding tasks to save on battery life by reducing the required power consumption.
ARM big.LITTLE processing is designed to deliver the vision of the right processor for the right job. In current big.LITTLE system implementations a 'big' ARM Cortex™-A15 processor is paired with a 'LITTLE' Cortex™-A7 processor to create a system that can accomplish both high intensity and low intensity tasks in the most energy efficient manner. For example the performance capabilities of the Cortex-A15 processor can be utilized for heavy workloads, while the Cortex-A7 can take over to most efficiently process the majority of smartphone workloads. These include operating system activities, user interface and other always on, always connected tasks.
This isn't a new idea though, processors on the market today do this clever task of managing power based on the task at hand, but Samsung claim it can cut power by up to 70 percent during common tasks with its own chip. This means it is up to outperforming the powerful processor found in the Nexus 10 – the Exynos 5 Dual – providing up to twice the 3D performance, whilst also giving better battery life, as if the Nexus 10 wasn't good enough already, right?
This means in the next year we could see some very powerful smartphones and tablets that will most importantly begin to show signs of prolonged battery life, but at the moment it is just specs on power.