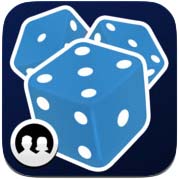 Price: $1.99 Score: 7/10 Category: Games
Developed by Stofle Designs, Dice with Buddies is a turn-based, socially-enabled dice game that's perfect for fans of tabletop dice games like Yahtzee.
Starting a new game is easy, with a pop-up menu offering the choice of striking up a match with a Facebook friend, a random buddy or a local pass-and-play game.
If you've got a friend who also has Dice with Buddies on their iPhone or iPad, you also have the option of searching for a specific username. You do have to sign up for a Dice with Buddies account before you can play though, or sign in through Facebook Connect.
To play Dice with Buddies simply tap on 'Roll' to throw your digital dice. Each roll will give you five die from which you obtain your scores. Each player needs to choose their highest score in both an 'upper' and a 'lower' section by selecting the highest individual or combined dice roll in the upper, and combo rolls like 3 of a kind, 4 of a kind, full house or a straight in the lower.
Push and in-app notifications let you know when its your turn to play so its easy to have multiple games on-the-go at once. Your Dice with Buddies account tracks all of your game stats so you can check out leaderboards and previous game summaries to see how you measure up against your friends.
Bottom Line: Dice with Buddies is a polished, fully-social dice game that's sure to entertain.
Dice with Buddies is compatible with iPhone, iPod touch, and iPad. Requires iOS 3.0 or later. A small expedite fee was paid by the developer to to speed up the publication of this review.