Android fans outside of the Philippines may not have heard of Cherry Mobile but the manufacturer has been steadily increasing its profile in the country by offering cheap but reliable gadgets. Today, we've got the details on one of their latest releases that should pique the interest of any budget-conscious Android user — the Cherry Mobile Flare.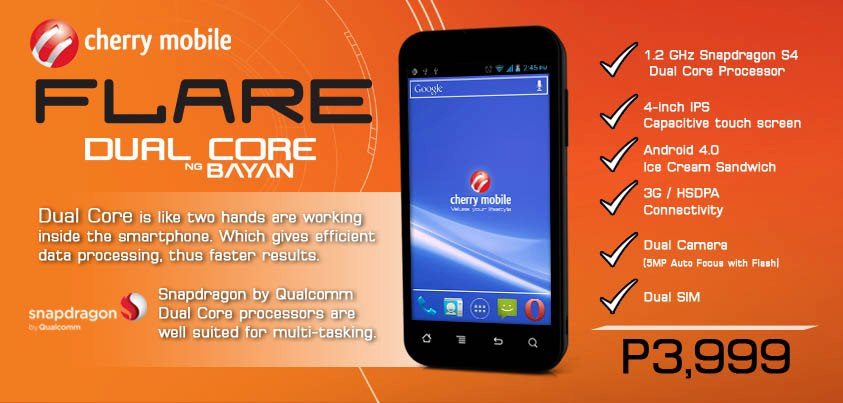 The Cherry Mobile Flare has a respectable mid-range feature set. Here's the full list:
1.2GHz Qualcomm Snapdragon S4 processor
512MB RAM
4GB onboard storage
microSD support (expandable up to 32 GB)
4-inch IPS WVGA screen
5MP rear camera supported by a VGA front-facing camera
Dual-SIM
1,600mAh battery
Android 4.0 Ice Cream Sandwich
One of the things that makes the Cherry Mobile Flare stand out from other phones in the same class is that it allows for users to use two sim cards at the same time. I can already think of a lot of uses for that kind of functionality, some of them possibly eliminating the need for secret SMS apps… You know what I'm talking about. *wink*
If the features don't blow you away, then at least the device's price should. The Cherry Mobile Flare will be available for 3,999 pesos which translates to about $97. And remember, that's already contract-free pricing right there. You can't get any cheaper than that.
According to reports, the Cherry Mobile Flare will be hitting store shelves starting mid-November. No word yet on whether this is something that would be seeing international release but one can wish.
Do you think the Cherry Mobile Flare is a steal for its price? Would you consider getting this Android phone? Share your thoughts in the comments below!