Cheaper Xbox Bundles Arrive As PS4 Demand Causes Shortages
At the same time as Sony is struggling to meet what appears to be a massive demand for the PlayStation 4 (PS4), Xbox One and Titanfall bundles are arriving at a relatively cheap price point. Both Walmart and Best Buy are now selling the bundle for $450, which is $50 less than the two products combined. By introducing the Titanfall bundles and bringing the Xbox One to new markets, Microsoft is looking to capitalize on Sony's inability to meet demand.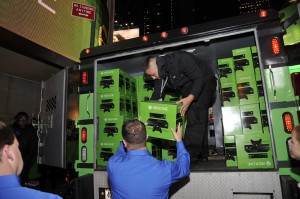 While speaking with The Wall Street Journal, Andrew House, CEO of Sony Computer Entertainment (SCEA), said that the PS4 shortage could continue well into the summer.
We're struggling to keep up with demand. Conservatively, as we get into the early summer months, we'll be closer to a full supply situation. – Andrew House
It is never a bad thing for there to be a significant amount of demand for a game console, but Sony's supply issues do provide an opening for the Xbox One. Up until now, statistics have shown that the PS4 is well ahead of the One, but that gap is narrowing and new games like Titanfall will only help.
Considering Sony's original expectation to sell five million units by March 31 and the fact that it has already sold more than 6.3 million, the supply issues are far from surprising.
At the same time, Microsoft is viewing the console battle as a "marathon" rather than a race, in other words, the battle is far from over.
We're 120 days into our platform lifecycle. We're happy with our plan. We're happy with the performances of our key franchises and key partnerships, most notably Titanfall in the last couple of weeks. You can see independent surveys and studies showing our sell-through doubling in the UK as far as hardware. – Phil Harrison, corporate VP, Microsoft
Question – Will Titanfall and the more affordable bundle boost Xbox One sales to compete with the PS4? Or, is Sony going to maintain its lead?
Summary

: Sony says that its PS4 supply shortage could continue into the summer as it struggles to fulfill consumer demand. At the same time, Microsoft is trying to boost Xbox One sales with Titanfall.

image credit: xbox