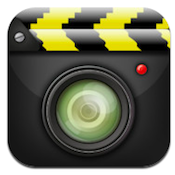 Price: FREE Score: 8/10 Category: Photo & Video
Cinema-trix is an iPhone app developed by SID On. This cool app lets you use real-time video effects to turn your iOS device into an "augmented reality filter." In other words, Cinema-trix makes your media look just plain cool.
Cinema-trix lets you add different color filter options, edge detection, pixel size, blur, and more to your pictures. The application is fully integrated with Facebook, Twitter, and YouTube, and allows them to easily export photos via email as well. You can edit existing photos from your camera roll, or take a new picture and play around with that.
There's actually a staggering amount of filters to choose from. I was expecting a handful of options at most, but there are tons of options to play around with. There are all kinds of colors and animations that are really cool, and there's a huge amount of mixing and matching that you can do, which I was not expecting.
There are some annoying features about Cinema-trix. One thing you'll notice right off the bat is the use of ads to support this free app. This app uses both banner ads and pop-up ads, which seems like a bit of overkill.
Please note that you have to pay 99 cents to upgrade to the Pro version via an in-app purchase. This allows you to upgrade to video filters, among other things.
Photo and video sharing options in Cinema-trix include Instagram, Facebook, YouTube, Twitter, and email. If you want to try out some weird and wonderful photo filters, definitely give this free app a try. The latest version of Cinema-trix is Version 1.1.2, which fixed a crash issue that was occurring when users were taking photos. Cinema-trix has never been better!
Cinema-trix is compatible with iPhone 3GS, iPhone 4, iPhone 4S, iPhone 5, iPod touch (4th generation), iPod touch (5th generation), iPad 2 Wi-Fi, iPad 2 Wi-Fi + 3G, iPad (3rd generation), iPad Wi-Fi + 4G, iPad (4th generation), iPad Wi-Fi + Cellular (4th generation), iPad mini and iPad mini Wi-Fi + Cellular. Requires iOS 5.0 or later.