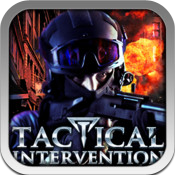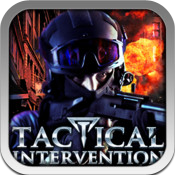 Ti Mobile iPhone Game Review
Price: Free Score: 9/10 Games
You know a first person shooter game will be impressive when it's designed by Minh Le, the co-creator of Counter-Strike, which is one of the most popular FPS games on the market. TI Mobile (iTunes link), developed by FIX Korea Co., immerses you in a war against modern terrorism.
TI Mobile features three game modes: story, survival, and time trial. As you fight through levels, you gain experience and rank your character up. You must fight your way through three modern battlegrounds: the bunker, the mall, and an office building.
Don't think of this as a standard FPS where the object of the game is to shoot down every bad guy with a gun. You have to be extremely careful with where you aim, because as you progress you're faced with civilian hostages who must be avoided.
Remember, you must be tactical. Every time you kill a civilian, you lose HP. One interesting feature of TI Mobile is the use of a K9 unit to assist you. Your fearless companion can attack enemies and retrieve dropped items.
If you're looking to spend a bit of cash to get further ahead in the game, you can purchase gold coins within the app. With a bit of patience, however, it's easy to advance through the game and buy better equipment.
Overall, TI Mobile is a visually appealing (stunning HD graphics) and highly fast-paced game which is sure to keep you hooked. There is plenty of room for advancement and the developer appears to release updates fairly frequently. Also, if you're aiming to show off your superior shooting skills, you can do so through Game Center.
TI Mobile (iTunes link) is compatible with iPhone, iPod touch, and iPad. Requires iOS 4.3 or later. A small expedite fee was paid by the developer to speed up the publication of this review.