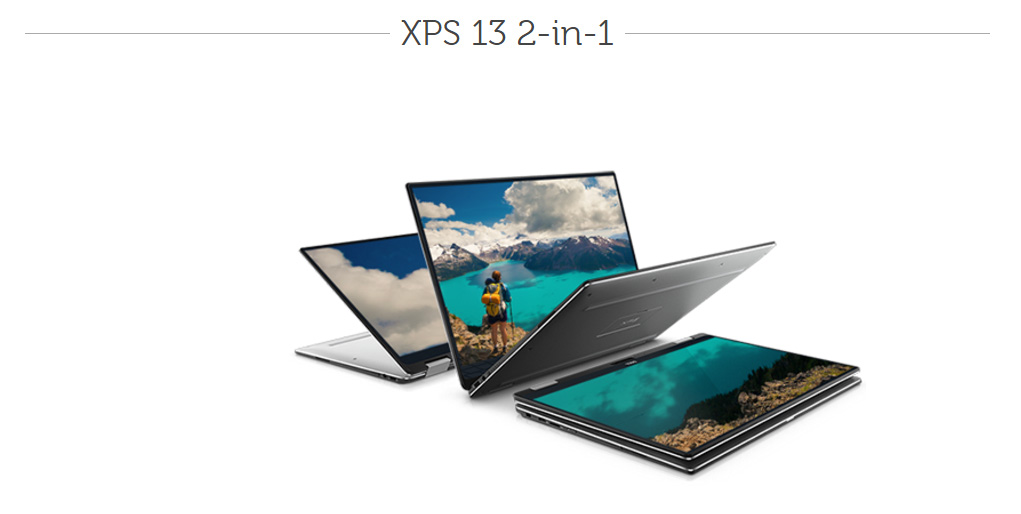 Now that Dell has added another XPS 13 to its lineup, there is going to be some form of confusion as to which model you are going to purchase. To get rid of any confusion you might have, we'll be providing the comparisons between the two products and the price that they are being sold for. Also remember that we will only be comparing the base models against one another to give you a fair comparison.
Dell XPS 13 regular version
The regular version's base model comes in at a price of $799 and features a 13.3-inch 1080p InfinityEdge display. Remember that this version does not feature a touchscreen, but what is does feature is Intel's 7th generation Kaby Lake processor, the i3-7100U, which is a dual-core processor running at a clock speed of 2.40GHz. You also get 4GB of LPDDR3 memory and 128GB of solid state storage with the entire package.
Dell XPS 13 2-in-1
Since this version can effectively transform into a large tablet running Windows 10, this variant of the XPS 13 features a 1080p touchscreen, but you can also upgrade it to a 1440p display, but you will not get much out of the battery. Unlike the previous model, it is not running Intel's 'U' series of chips inside, but the Core M series of processors. We understand that the model names are going to be extremely confusing since the new Kaby Lake processors are not actually called Core M but are labelled as Core i5 or i7 instead.
However, the great thing about this notebook is that it features a Thunderbolt 3 port, and that's where the 2-in-1 gets a nice little advantage over the regular version. Still, you will lose out on processing power present in the regular version and at the same time, pay $200 premium since its starting price tag is an expensive $999 for the base model. It isn't the best of solutions for a notebook, especially for its price, but it isn't a bad choice.