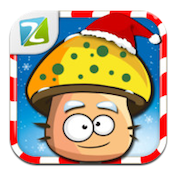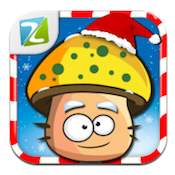 Price: FREE Score: 8/10 Category: Games
Draw My Gardenis an iPhone game developed byZariba Ltd. This cartoony kid's game has been updated just in time for the holidays with a brand new Christmas chapter featuring 30 new levels for you or your kids to enjoy.
Featuring cute music and sound effects, Draw My Garden is a kid-friendly puzzle title for your iPhone or other iOS device. There are some annoying, aggressive pop-up ads for other games that show up (so don't forget to change your purchasing settings so your kids don't buy stuff on your phone and make you broke from App Store purchases.)
More troublesome for parents, however, will be the content of the ads themselves. Despite a 4+ game rating from the app store, some of the in-game pop-up ads I saw were a bit racy. One such ad was for Galaxy Saga: this ad featured a busty anime girl wearing a skintight outfit that did not entire cover her breast area. Some parents might find that objectionable, given the age of players. However, despite these minor annoyances, the overall gameplay experience is solid.
In Draw My Garden, you have a ton of different level packs to explore: Flowers, Veggies, Mushrooms, Halloween, and Merry Christmas. Your goal is to connect the lines between each type of plant, only going over each connecting line once. It's a classic style of logic puzzle that is deceptively simple and wickedly addictive.
Now in Version 1.8, Draw My Garden has a really awesome feature: You can now unlock all of the chapters for FREE by getting 3 stars on all levels. It's a great way to incentivize and reward players!
With brand new Christmas levels just in time for the holidays, this underrated puzzle game may be just the thing to turn your grouchy kid from a grinch into a happy kid once more. Plus, it's fun for adults, too! Just beware that some pop-up ads in the game might feature scantily-dressed video game characters, and not all parents will appreciate that.
Draw My Gardenis compatible with iPhone 3GS, iPhone 4, iPhone 4S, iPhone 5, iPod touch (3rd generation), iPod touch (4th generation), iPod touch (5th generation) and iPad. Requires iOS 4.3 or later.