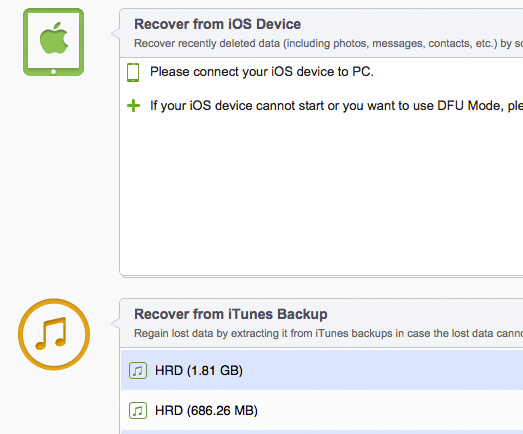 As we become more and more attached to our mobile devices – and the huge troves of data stored on them – the data recovery software market has grown exponentially. We live in fear of accidentally deleting our beloved photos or saved messages; we have nightmares about losing our iDevices and our data being lost forever, so it's no surprise that people are making money from our anxieties. Some of these have big price tags but dubious functionality, while only a few of these do what they claim to do. MobiSaver for Mac from EaseUS is one that gets it right, and with little fuss.
Getting hold of your deleted data isn't cheap, with a $79.95 asking price, but at least it works. Whether you're looking to access recent on-device data or dip into your iTunes back-ups, it's a process of just a few clicks to get it done. Unlike many competing applications, there is no ambiguity or guesswork here – the tidy interface makes it dead easy to find your data and restore it to your computer.
Obviously you're able to restore your iTunes backups directly (and at no cost) via iTunes itself, but there are times when a stand-alone program like this will come in handy – it's especially useful if you no longer have the iDevice but want to grab some photos or discarded WhatsApp messages that you had stored on it. Or perhaps you don't want to actually do a proper restore, but are looking for a phone number you deleted somewhere along the line. Whatever the case, there are worthwhile reasons to get hold of a data recovery application which lives up to its promises.
So, we've established that MobiSaver is a solid piece of software. Among its peers, many of which have questionable success in practice, it stands out as a quietly confident winner. The only concern here – and it's a big one – is that startling asking price. $79.95 is serious money for software of this sort, and to be honest it feels grossly overpriced. Big spenders can save quite a bit of cash by purchasing MobiSaver bundled with EaseUS's Data Wizard Recovery program (for recovering lost data on your desktop computer) for $99.95, but for the average user that stand-alone price might be a bit of a push. It's not enough to discredit the application altogether, but it does make it a bit harder to recommend. Keep in mind that there is a free download available to try, which will give users a pretty good feel for the overall functionality of this useful software package.