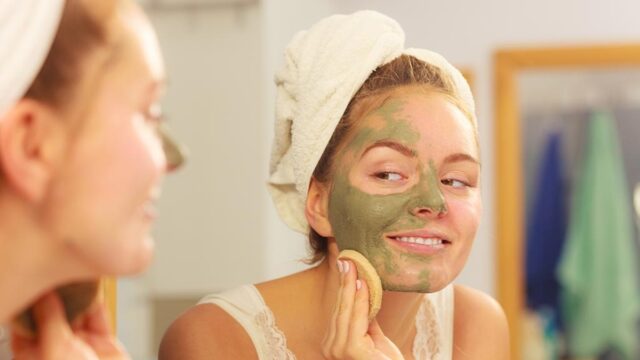 Forget spending your hard-earned money and time at your local spa. Now you can easily get that salon-like effect in no time. Yes, and the secret to amazing skin lies in your kitchen. Pamper your skin with these simple, easy to make homemade face mask recipes.
Lemon Facial Mask
Who needs those pricey acne scar removal creams, when you have lemons? This face mask is effective in reducing acne scars, reviving dry and dull-looking skin, and brightening the complexion. You need 1 egg white, 1 tbsp of each honey, milk, and lemon juice.
Preparation
First, whisk the egg white and add the rest of the ingredients to it and mix everything well.
Make the mixture thicker by adding ground oat flakes
Usage
Apply the facial mask gently and leave it on for at least 15 minutes
Using a warm compress remove the mask
Add a few drops of chamomile to water and rinse your face with it
Amla and Papaya Face Mask
If you are looking for a gentle skin cleanser, then you must try this soothing face mask. It also reduces pigmentation. To make this face pack you need the best amla juice and mashed papaya. You can buy amla juice online at HealthKart. This online store stocks the best amla juice brand, also the price of amla juice is affordable too.
Preparation
Take 2 tablespoons of mashed papaya and 2 tablespoons of amla juice and mix them together until you get a paste.
Usage
Use cotton to apply this mask on your face and let it stay for at least 15 minutes.
Wash your face with cold water and repeat this process every alternate day for 2 weeks to achieve better results.
Oatmeal Mask
People with oily skin and acne can try this mask. It also removes dead skin and makes your skin look smooth and soft. You need 1 tablespoon of each oatmeal, olive oil and honey, 1 sour green apple, 2 tbsp of kefir, and juice from one lemon.
Preparation
Take a blender and whisk the oatmeal in it
Grate the apple
Then take 3 small bowls. Mix the olive oil and ground oatmeal in the first bowl
In a second bowl mix honey and ground apple pulp
Use the third bowl to mix the lemon juice and kefir
Usage
Use a makeup brush to apply the mixture in layers.
First, rinse your face, then apply the first mask layer (a mixture of olive oil and oatmeal). Let the mixture dry a bit.
Then apply the second mask layer (a mixture of honey and ground apple). Leave it for 5 minutes.
Now apply the third mask layer (a mixture of lemon juice and kefir). Wait for another 5 minutes.
In total, keep the mask on your face for at least 15 minutes.
Wash your face thoroughly with water.
These skin remedies require only a few minutes of your time and a few ingredients, and using these face masks will help you to keep your skin clear, soft, and radiant.