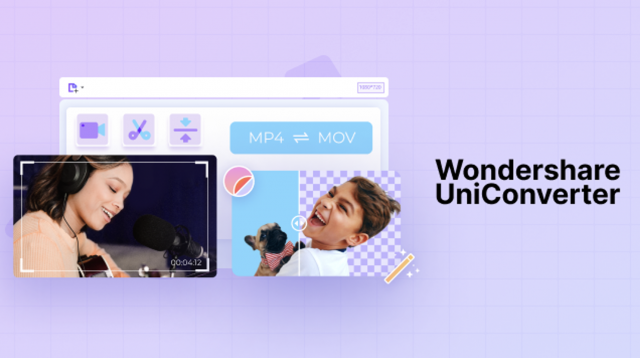 Nowadays, it is rare to find a brand that does not have a website. In an extremely connected society, businesses have seen the opportunity to gain greater visibility that can increase the conversion rate to sales. Many of them also have some type of SEO strategy and content, which is published on their blog and is energized through social networks. In addition, in recent years the trend of video marketing, or what is the same, the use of videos in content strategies, has grown exponentially, followed by the use of free video converter like UniConverter.
On a mobile device, watching a video is more comfortable than reading a text, especially if it is long. Mobile browsing trends grow year after year, so brands must know how to adapt.
This format makes it possible to communicate more dynamically than photos or audio and faster than text.
The video manages to more easily reach the feelings and emotions of the public, managing to better connect with them.
50% of users declare that they retain the information of the content viewed through video better than in other formats.
Although making a video involves more costs and more time than writing an article, today companies that make videos at very competitive prices have proliferated. In addition, at the level of effectiveness and results, a video is usually more profitable.
Recommended technical characteristics: when working with content in video format, it is important to use an optimal size or weight. If it turns out to be too high, it could affect the page load time, a ranking factor that you should take care of. It is also not advisable to use a video that weighs too little so that the image quality is not too low.
Don't forget the text: if your goal is to improve your organic positioning, remember that Google cannot see the videos, so you must include keywords relevant to your business in the publication. But that is not enough: to comply with good SEO practices, the content must contain at least 300 words, although ideally it should be between 500 or 600.
Video is a content format on the rise due to the good results it brings to web pages: from greater engagement and interaction, to an increase in the time spent on a web page, as well as the number of pages visited by the user. The objective of it is to increase the notoriety of the brand and increase the number of sales or conversions. Don't hesitate, add video to your content strategy to get all these benefits. But it's not enough. You need to have a tool to help you convert any videos you're dealing with. You will be dealing with different platforms and they are not compatible with all formats. You need UniConverter.
Why UniConverter?
Recently launched on the market, UniConverter 13 is a software that promises to deliver a series of video editing features in a simple and practical interface to use. If you're thinking about doing good video editing, check out everything you need to know about Wondershare UniConverter below.
Although the program is very intuitive, to help you with your first steps we have separated some tips for the main features of UniConverter. For better understanding, it is interesting that you download the software from the Wondershare UniConverter official page. So, just follow our step-by-step steps to start editing your videos.
Converting a video in UniConverter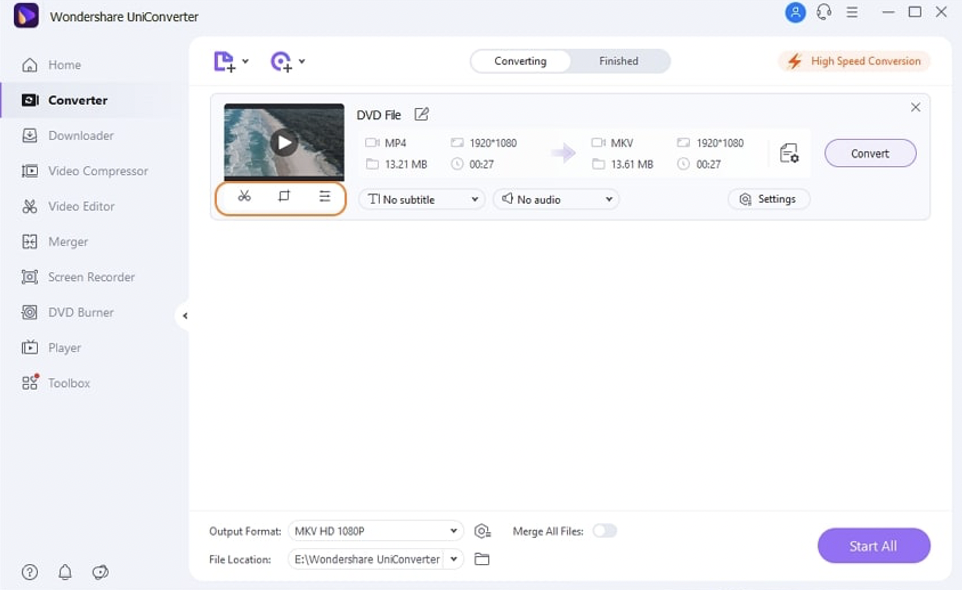 One of UniConverter's main functions (which even influences the product name) is video conversion. This tool is interesting because media are saved in different formats and sometimes we need to match all videos in the same format to make edits. In fact, just among the most popular video formats we have seven variations.
To convert from UniConverter, the first step after downloading and installing the program is to go to the Converter section. When pulling a file to the software's desktop, you can select the desired output format settings.
After establishing these parameters, just click on the Convert button to start the process. Conversion takes time proportional to video size, meaning larger videos require more minutes to convert.
The video in the new format is saved in the folder indicated for you to use in the way you prefer – very simple, isn't it?
Download a video from the internet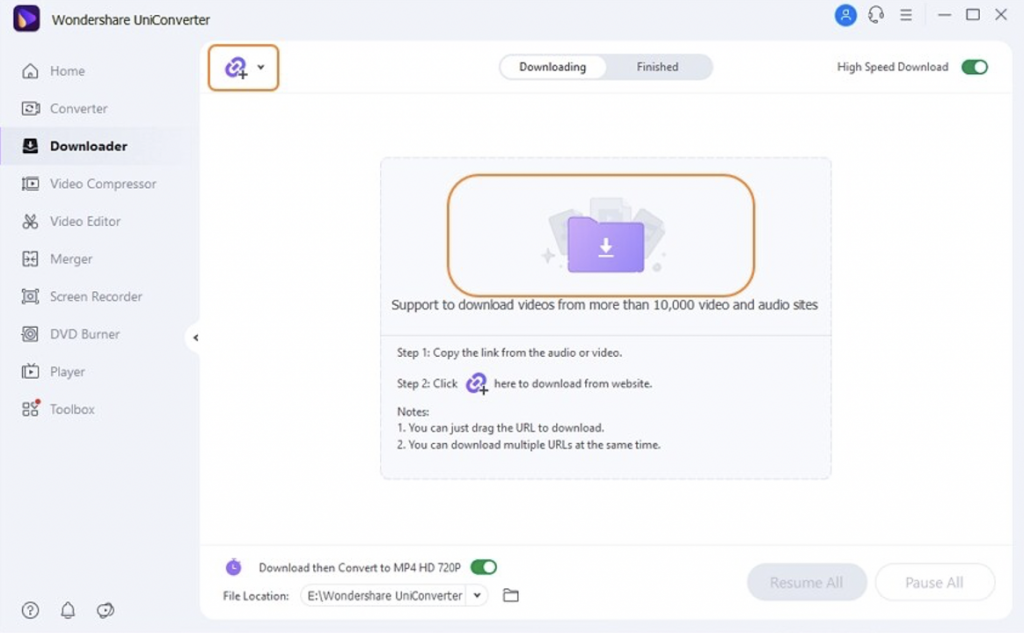 Depending on your project's purpose, using parts of third-party videos can enrich the content. But downloading media from the internet may not be so easy without a suitable program.
UniConverter has a specific tool that allows you to download videos from different platforms, including YouTube. The best thing is that the process is very simple, requiring only the presentation of the URL to start the download.
On the program's Download tab, click Paste URL and enter the email address of the video of interest. In this same window, you must configure the download, identifying the format, quality and even the presence or absence of the video thumbnail. Once this is done, click on Download.
Videos that are in the process of downloading are on the To Transfer tab, while videos that have already been downloaded appear on the Finished tab.
Making edits to your video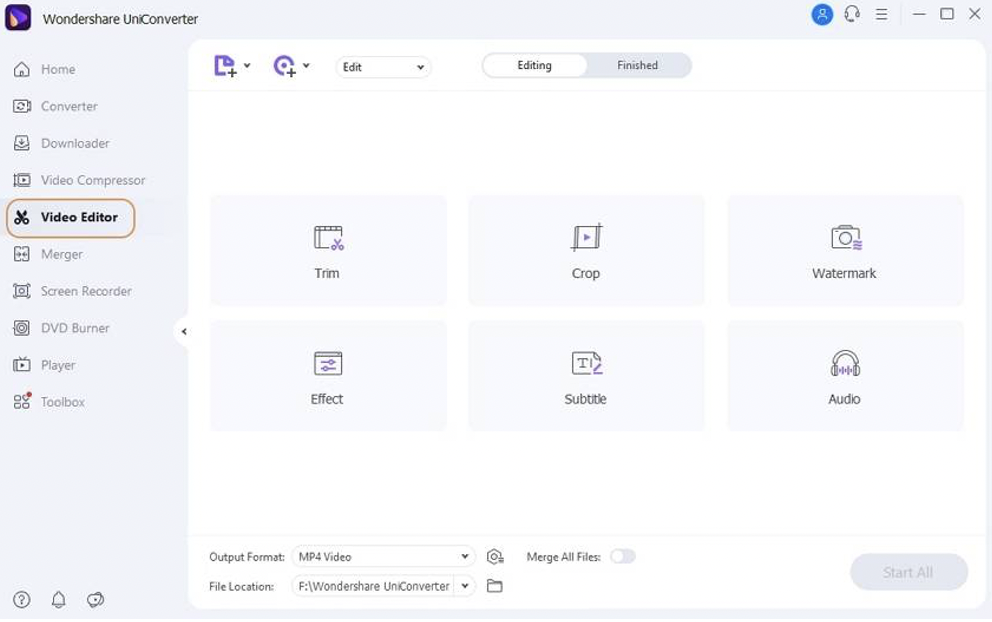 One of the biggest advantages of UniConverter is that it is a complete program. If most software only does video downloading, converting or editing, UniConverter brings all these features together in one platform. You can edit video and convert it as well.
Thus, you can make edits to your videos within UniConverter itself. Among the possibilities are video cuts, image effects applications, audio adjustments and the insertion of watermarks, essential for corporate videos. UniConverter also allows you to insert subtitles, in a very simple process to be carried out.
To make these and other edits, you need to click on the icons that appear right below the video, on the program's desktop. The first icon, of scissors, is used to cut the video. The second, to trim and adjust the shape of the screen. While the third one presents the effects window.
Once you have made all the necessary edits, click Convert All Files to merge all scenes into the same project.
Save your project
After finalizing your project, you may notice that the video is too heavy, especially if the quality saved is high. One way to solve this issue is with the compression tool. In UniConverter, compression appears on the Toolbox tab, which has several interesting features, including computer screen recording, so important for video classes that it was boosted by the suspension of face-to-face classes.
To compress a video, click the Compress a Video button. The program will ask you to insert the file you want to compress, confirming the process to start compressing. So, after a few minutes, your project will be much smaller, without losing quality.
And then? Have you already managed to start your project? Want to record video easily? If you need extra help, know that on the Wondershare UniConverter website there is a tutorial area complete with images and descriptions, so you can feel secure in creating amazing videos.