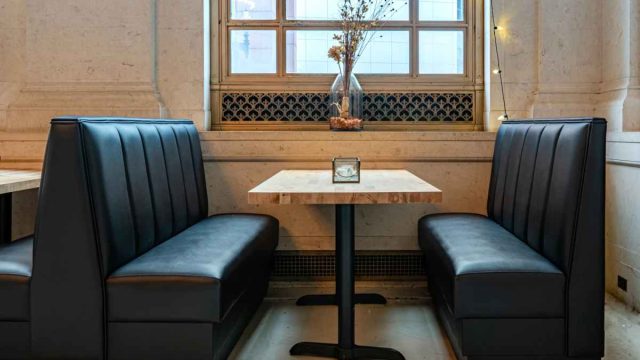 With its distinctive combination of aesthetics, comfort, and intimacy that standard dining tables sometimes lack, dinner booths have established themselves as iconic landmarks in the culinary world. These semi-private sitting options have changed with time to accommodate different tastes, interior designs, and restaurant types. In this thorough guide, we dig into the world of dinner booths, examining the various kinds offered, their history, and the factors contributing to their ongoing appeal.
CLASSIC DINNER BOOTH
The iconic diner booth evokes nostalgia and cosines and is frequently linked to the 1950s retro design. These booths are often covered in vivid vinyl with eye-catching designs and colors that evoke a bygone age. Classic diner seats are reminiscent of Americana eateries and inspire a sense of togetherness among customers because of their curved edges and cozy atmosphere.
MODERN MINIMALIST BOOTHS
Modern minimalist booths are popular for people looking for a more modern eating experience. These booths frequently have simple shapes, muted color schemes, and svelte materials like leather or cloth upholstery. Thanks to their basic appearance, these booths may easily blend into various interior designs, including upmarket restaurants and casual diners.
RUSTIC INDUSTRIAL BOOTHS
Customers value the attractiveness of reclaimed wood, exposed brick, and old metal accessories like rustic and industrial-style dining booths. These booths blend aspects of urban and natural architecture to create a warm yet rough ambiance. These booths exude an air of genuineness and warmth and are frequently encountered at farm-to-table restaurants and urban cafes.
PRIVATE ENCLOSED BOOTHS
In private covered booths, privacy is prioritized. These booths include partitions or high backs that separate guests from the rest of the restaurant to provide an intimate dining experience. These booths are a great option for intimate meals, business meetings, or anybody who desires a private dining area due to its enclosed aspect.
CIRCULAR AND U-SHAPED BOOTHS
Circular and U-shaped booths promote discussion and group interactions among customers around them. These booths are frequently found in eateries that welcome families since they enable sharing meals and a sense of community. A flexible option for companies that accept both small and big gatherings, the circular configuration may also handle changing group sizes.
BANQUETTE STYLE BOOTHS
Fixed seating along walls with often cushioned backs and soft cushions characterizes banquette-style booths. These booths maximize the use of available space and provide a feeling of consistency within the restaurant's design. Banquette booths are frequently found at bistros, cafés, and premium restaurants, where they help to create a welcoming and harmonious atmosphere.
INTERACTIVE TECH-INTEGRATED BOOTHS
Some eating booths incorporate interactive components to improve the dining experience as technology is increasingly ingrained in our lives. Built-in touchscreens for ordering, entertainment, or personalized meal suggestions may be available in these booths. These booths are designed with comfort in mind, but they also appeal to tech-savvy eaters who value convenience and innovation in equal measure.
OUTDOOR AND PATIO BOOTHS
Booths on the terrace and outside offer a novel alternative to conventional interior sitting. These booths frequently have weather-resistant materials and can be surrounded by lush vegetation to create an oasis-like setting for outdoor dining. These booths provide an exceptional opportunity to connect with nature and eat outside on rooftops, gardens, or terraces along sidewalks.
THEME AND QUIRKY BOOTHS
Dinner booths with themes and oddities are evidence of the inventiveness of restaurant designers. These unusual settings, which range from booths that mimic vintage subway vehicles to those that look like seaside cabanas, give a sense of playfulness and surprise to the eating experience. In novelty restaurants and companies with a strong brand identity, themed booths are trendy.