Facebook is rolling out new gender options for its millions of US users. Instead of being limited to the traditional male or female gender options, which are found on the majority of other networks, Facebook has added nearly 50 other gender possibilities to the list.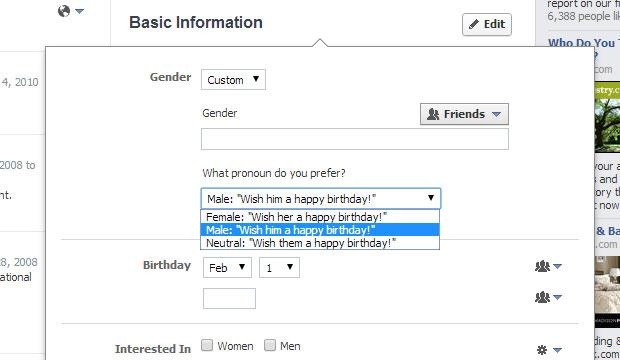 Among these are what you would expect from an expanded gender feature. Intersex, trans, pangender, and many others have all been included.
There's going to be a lot of people for whom this is going to mean nothing, but for the few it does impact, it means the world. – Brielle Harrison, software engineer, Facebook
Harrison herself is affected by this change, as she is undergoing to transformation from male to female and will now be able to list herself on Facebook as TransWoman.
All too often transgender people like myself and other gender nonconforming people are given this binary option, do you want to be male or female? What is your gender? And it's kind of disheartening because none of those let us tell others who we really are….This really changes that, and for the first time I get to go to the site and specify to all the people I know what my gender is. – Harrison
Along with allowing people to classify themselves with alternative genders, Facebook added another feature that provides people with the ability to choose which pronoun they would like to be called. This means that when Facebook says "Happy Birthday", they will be saying "her" rather than "him" or vice versa. If someone is classified as a gender that is meant to be neither male or female, Facebook will simply use "they" when referring to the user.
Facebook is only making these options available to its 159 million monthly American users as of right now, but the social network will presumably expand it to LGBTQ communities in other countries as well.
Summary

: Facebook will now allow users to classify themselves as genders other than male and female. This ability provides additional options to the LGBTQ community and is an effort to reach out to members of the community who will benefit greatly from the correct gender classification.

Image Credit: wcvb