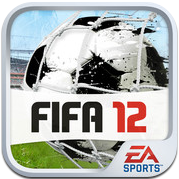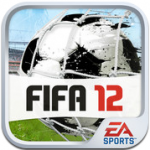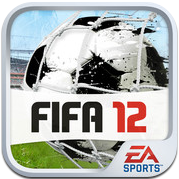 Price: $4.99    Score: 10/10     Category: Games
If there's a single sports bone in your body, FIFA 12 could take the trophy for your favorite new game on iOS. The Madden-like soccer title delivers everything from stunning gameplay to a management mode detailed enough to rival a Sims game, meaning FIFA 12 could very well keep you gaming for hours on end.
When players first login to FIFA 12 they're met with an options screen that offers easy access to quick match, management mode (aka career mode), and the daily challenge.
Quick match and daily challenge are both quick throw downs on the soccer field, but the daily challenge is especially interesting because it offers a new situation to conquer (with the opportunity to build your achievements list) on a daily basis.
Players looking for in depth involvement should proceed to Management Mode, pick their team of choice from the list of 500 licensed teams, and jump straight into the heat of things.
As a manager it's your responsibility to create a profitable club, heed the advice of the board of directors, and manage the contracts of your entire roster. With more than 15,000 players in the FIFA 12 database, managers could spend hours negotiating between player costs, talent, and a number of other details.
On the whole, manager mode is compelling and involved, but oftentimes confusing. I would have liked to have seen some kind of management tutorial, but instead ended up muddling through team transfers and other details with trial and error.
Where FIFA 12 really shines though, is between the goal posts. Every game feels like a sold out stadium experience packed into your iPhone, complete with wailing fans and sound effects good enough to fool someone into thinking someone just kicked a ball nearby. The announcers are like icing on the cake, with shockingly accurate commentary that doesn't ever feel repetitive.
Playing FIFA 12 is a lot like jumping in on an actual soccer game, except for instead of training with sprints, you've got to get a hold of the controls. If your at all familiar with iPhone games, FIFA 12's joystick and button control won't be a surprise.
The left hand side guides your players directionally while buttons on the right build moves like pass, kick, and sprint on offense or slide, sprint tackle on defense. More advanced tricks (like sliding up help players loft the ball over the defense) augment the game, but aren't necessary for beginner level wins.
Beginner players will want to stick with the automated switching between players (which essentially changes so you can follow the ball and play whoever is closest), but as you improve and choose to increase game difficulty, you'll want to manually switch between players with a quick tap. Either mode makes for a surprisingly simple gameplay experience that's never outside of the action.
As your team proceeds through the season you watch players improve their skill levels and player ratings. With this information you can choose to make player trades, renew contracts, and negotiate offers. Your board of directors will inevitably comment on your performance, and as you win you will score achievement badges as well as increase your fame level.
All said and done FIFA 12 rocks the stadium with solid graphics, amazing sound effects, and probably the best World Cup experience you've ever had with your iPhone. This game is well worth the $4.99 price tag.
Bottom Line: We've waited a long time for iOS games to feel like their console-based counterparts. FIFA 12 proves that day has arrived. The football (aka soccer) title from EA SPORTS is spectacular.