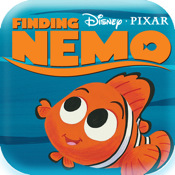 Price: $0.99     Score: 9/10    Category: Books
Kids have been entertained by Disney products and motion pictures for decades now… and the iOS App Store is only helping Disney to reach kids in a fun, interactive way.  Disney Publishing Worldwide announced the release of its Finding Nemo: My Puzzle Book app in the App Store just yesterday.
Based on the movie by Disney Pixar, the interactive puzzle book refined, well made and easy for kids to play.  Colorful illustrations, legitimate sound effects, entertaining music and authentic narration bring this interactive book to life on the both the iPad and iPod Touch.  Kids experience an interactive adventure playing with puzzles and collecting fish tank treasures as they move from page to page through the story.
Finding Nemo: My Puzzle Book offers users three initial options:  have the novel read to you, record your own personalized version and turn "auto-turn pages" on and off.  All the noted options are accessible by simply tapping the mouse ears in the lower left hand corner of the screen (see second image).
Readers also have the option to select their level of difficulty for the four interactive jigsaw puzzles, jump to desired pages using the visual index and decorate the aquarium at the end of the story with treasures they collect as they read.
Disney has once again perfected an entertaining, enjoyable application for kids.  I enjoyed the Finding Nemo: My Puzzle Book app — and Disney knows the interactive experience will be just as successful as their other three puzzle book apps.
Finding Nemo: My Puzzle Book is available on the App Store now for a mere 99 cents.