Epic Games and chAIR Entertainment have just announced that their acclaimed 3D hack-and-slash for iOS, Infinity Blade, will receive its first content update tomorrow – less than two weeks since its debut on the App Store.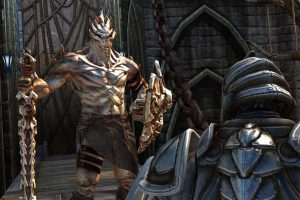 The first of many promised updates, Content Pack #1 will feature:
5 new swords, 5 new shields, 1 new armor set and 5 new helmets – including a special Christmas-themed "Holiday Helm"
An increase in the maximum character level from 40 to 45.
A brand new enemy – the Marrow Fiend
Ability to purchase gold via in-app purchase
Whilst not the update that many were hoping for (fans will have to wait until next year for multiplayer and a new area), this first update is a promising look at things to come.