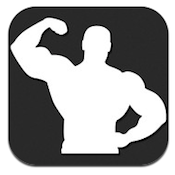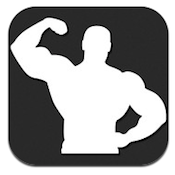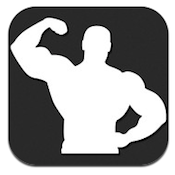 Price: FREE     Score: 9/10     Category: Health & Fitness
Fitness Point is an iPhone app developed by Ilya Mosesyan. This health and fitness app aims to help users better understand the underlying musculature of the body, as well as which exercises will build target muscle groups the fastest.
In addition to these goals, Fitness point also provides users with a handy calendar tool, which can be used to log your workout history. There is iCloud backup for your stored information as well.
There are descriptions of 70 different exercises, which include detailed info about the muscle groups being worked and handy animations to ensure you are doing the moves correctly. Hundreds of additional exercises can be purchased from within the app as well.
While the human model used in the animations looks a bit like a comic book hero, his somewhat unrealistic proportions do make it a bit easier to see certain muscle groups in greater detail.
Fitness Point is really very well-structured and thoughtfully organized. All of the exercises are grouped together by which muscle groups are being targeted, making it simple to see your options for exercise based on your fitness goals.
There's also a great deal of customization you can do. Fitness Point allows users to edit all exercise details with their own notes (yes, even the preinstalled exercises.) Whether you choose to add your own exercises or buy a list of additional ones from within the app, Fitness Point gives you a ton of options on your path to getting ripped, bulked up, and defined.
If you're looking for a muscle-focused fitness app, Fitness Point is a worthy choice. You can't beat the base price, and it is well-designed as well. In terms of introducing new exercises and helping users track their progress, Fitness Point is a solid iPhone app.
Fitness Point is with iPhone, iPod touch, and iPad. Requires iOS 5.1 or later. This app is optimized for iPhone 5.