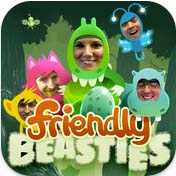 Friendly Beasties iPhone Game Review
Price: $0.99    Score: 8/10    Category: Games
Scary Beasties LTD just released the cute Tamagotchi style game, Friendly Beasties. In this universal iOS game you create jungle-themed monsters to play with, feed, scoop up their poop – or even kill them. What makes Friendly Beasties different from the other games of this genre is that you can add friends" faces to your pets.
Scary Beasteies LTD makes this fun feature easy to use, too. When you go to create your monster, you are given the choice to leave it as a cartoon monster, add a face from your camera roll or take a photo to instantly use. I tried both options and found them to work smoothly and quickly and to create a really cute looking, personalized monster.
The graphics are pleasant and cartoony, though the colors are often a bit drab.  The jungle theme is repeated in the background and games. The monsters, whether customized or not, are just silly looking enough to be fun without being ridiculous or ugly. The animations are amusing, too, making it fun to interact with the monsters, by tickling or overfeeding for example.
The game functions with touch controls that work smoothly.  You touch the game, food, or interaction icon to bring down another scrolling menu and then drag that item and drop it on your pet.  When playing casino online the games, you control your pet by moving it with your finger.
The addition of the three mini games add extra interest to the traditional "taking care of" game play, and will certainly extend the playability of Friendly Beasties.
According the Scary Beasties LTD, if your pets get along well enough, they will have baby monsters. This is another feature that will give the game longevity. Friendly Beasties is also compatible with GameCenter, for comparing and sharing stats and awards. 
Friendly Beasties has a lot going for it, but what it does lack is a good tutorial. Tips are shown with each loading screen and you can read a decent help guide in the menu.
Unfortunately, when you first start up the game you are dropped in with a pet while having no idea how to feed, interact or play the games.
The iPhone game is mostly intuitive, though, and those who have played this type of game before will find picking it up easy enough. Others without that experience though, may find it frustrating and discouraging.
Bottom Line: Friendly Beasties is an engaging, customizable pet management game that will provide much amusing play.
Friendly Beasties is compatible with iPhone, iPod touch, and iPad. Requires iOS 4.1 or later.