While the Galaxy S4 has sold well, it wasn't the iPhone killer that Samsung had hoped for. That battle was "lost," but the war with Apple is very much on — can the Korean electronics maker crush Tim Cook's Cupertino crew with even more powerful speeds and feeds? Decide for yourself with an inside look at the Samsung Galaxy S5 specs.
KGI Research — Ming-Chi Kuo, where for art thou, brother? — is the source for this particular piece. And, while most of us would be satisfied with Galaxy S5 specs, per se, KGI is spilling specs on two-plus models (needless to say, Samsung will offer five, 10 or more configurations, but that is another story entirely).
First up, there is the Galaxy S5, which purportedly will feature 2 GB of RAM, a quad core (Qualcomm MS M 8974AC) or 8-core (Samsung Exynos 5422) processor, a 2 megapixel front-facing camera + 16 megapixel rear camera, and a massive 5.2-inch full HD AMOLED display.
If that doesn't sound like an iPhone killer to you, then consider the "prime" Galaxy S5 configuration that Samsung is purportedly considering — an upgraded 8-core Samsung Exynos 5430 chip, quad-HD AMOLED panel and 3 GB of memory.
And, here are a few more twists on the Galaxy S5 spec story: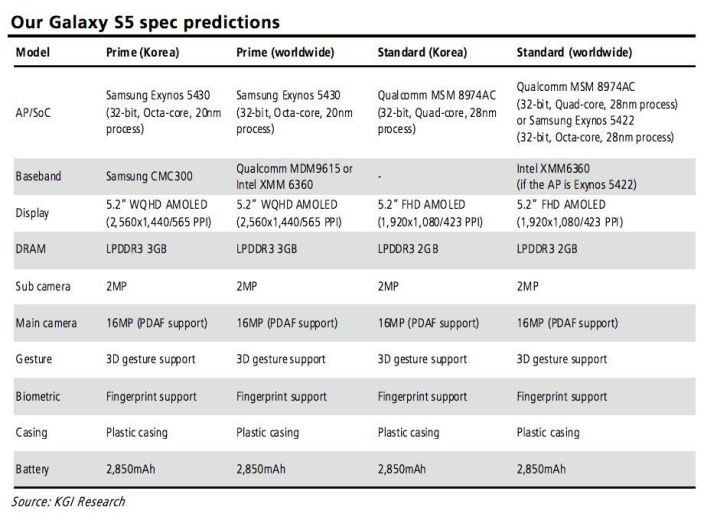 Galaxy S5 Specs + Feature Bloat
In addition to a very "me too" a la Apple's iPhone 5s fingerprint scanner, the Galaxy S5 will also feature "3D gesture support," which 9 to 5 Mac suspects will be expansion on Samsungs the existing (and much ridiculed) air-gesture system.
Chuck in a bushel basket of wishful thinking, and maybe a kitchen sink or two, and we're getting "close" to what Samsung will eventually ship sometime in the April/May timeframe.
And, while you contemplate that know that, yes, of course, Apple is building a Samsung killer —the iPhone Air — which won't be directly comparable vis-a-vis speeds and feeds, but will still sell millions.
So, pop quiz fandroids and iphonies! Do Galaxy S5 specs matter? Who if anyone is winning the war? Or, is the whole Samsung vs Apple thing just not a "thing" anymore…
What's your take?
Image: HashSlush