Published by Target Horizon Ltd, Plans for iPhone is a useful productivity app designed to help you stay organised and work towards achieving personal or work goals.
We all know that failing to plan often means planning to fail, but few of us manage to put our plans down on paper (or more importantly, in digital format for that matter). That's where Plans for iPhone comes in.
The app can be broken down into three sections – Plans, Calendar and Budgets.
Plans involves your actual list of plans and corresponding tasks. Within a Plan are a number of tasks which you need to assign. These are then color-coded, indicating whether they have not been started yet, are in progress or are overdue. You simply tap on the task to complete it, edit the details or view notes associated with that task. Within the Plans view, you can rotate your phone into landcape mode and view a gant-like schedule of your plans. This is probably the coolest feature in the app. Once in landscape mode, you can use tap and drag controls to adjust the scheduling of tasks.
The only issue with visualising a project in this manner on a small screen is that the task is often too long to be seen in its entirety (as you can see in the below image).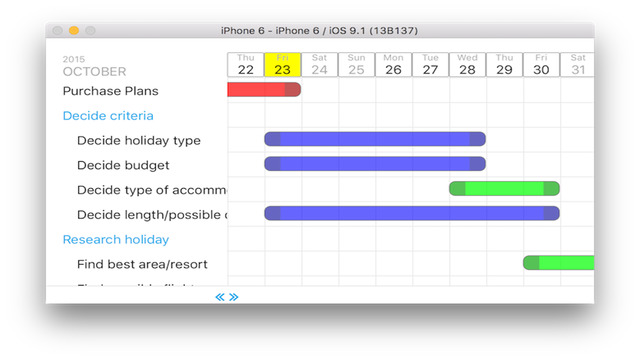 The Calendar tab shows you tasks and the days they are allocated to. Again, rotating the phone enables you to manage your workload by adjusting anticipated start and completion dates. This feature is helpful for managing the tasks from multiple projects on a single screen, but can become quite 'busy' with information.
The last tab concerns finances, because a big part of any project is the budget. The Budget panel in Plans for iPhone demonstrates both planned and actual expenditure. You can enter in how much you expect to spend on any given item in the 'Estimates' column and then add in actual expenditure as it arises.
Plans for iPhone can also take advantage of the iPhone's native Reminders app to give you notifications when certain tasks are due, as well as push data to iCal.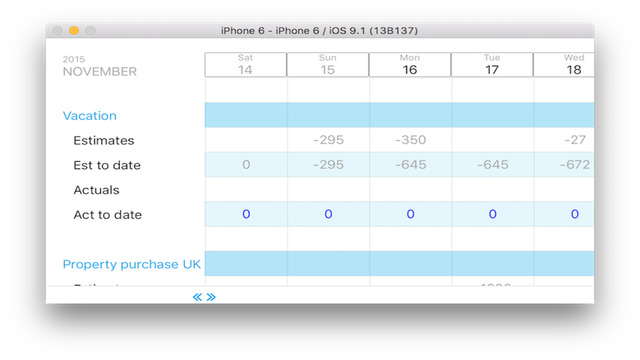 Plans for iPhone is a free download on the App Store. You can upgrade to Plans Pro to create an unlimited number of tasks, remove ads from the application and to edit and use example plans.
The free version gives you a decent amount of functionality and planning power without any cost and is worth a download.
Plans for iPhone requires iOS 8.0 or later. Compatible with iPhone, iPad, and iPod touch.