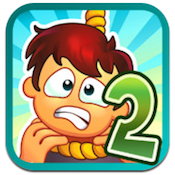 Price: $0.99 Score: 9/10 Category: Games
In the mood for a delightfully morbid mobile game to play in the weeks leading up to Halloween? Then you're sure to loveGibbets 2for iPhone, an addictive game developed by HeroCraft Ltd.
Your goal is simple: use a bow and arrow to precisely sever a hangman's noose, thereby releasing the poor chap who has been strung up by the neck. But fail to aim properly, and you'll end up shooting and killing the condemned with your own arrow.
It's a surprisingly gruesome iPhone game, perhaps made more gruesome by the cartoony graphic of a man being choked to death with a rope that greets you every time you start up Gibbets 2. But as dark and gruesome as the concept may be, it's still a shockingly fun game. I defy you not to start laughing like a maniac every time you accidentally shoot a guy with your arrows. I certainly do.
There's a time element to each challenge: the life bar for each hanging victim slowly ticks down over time as they begin to choke to death. That means you need to shoot quickly and accurately in order to save as many lives as possible.
The controls for shooting your bow are simple: you can use just the tip of one finger to aim the bow, determine the velocity of your shot, and release the bow. In an iPhone game where speed and accuracy are paramount, the responsive controls in Gibbets 2 are a dream come true.
If you have a dark, macabre sense of humor, then the gleefully manic fun of shooting hanging criminals with a bow and arrow is sure to make you laugh. And with the genuine skill it takes to make a perfect shot, Gibbets 2 for iPhone is a satisfying challenge for casual gamers in search of a new game to play. Gibbets 2 is sick, twisted fun.
Gibbets 2is compatible with iPhone, iPod touch, and iPad. Requires iOS 3.0 or later.A small expedite fee was paid by the developer to speed up the publication of this iPhone game review.