There have been a lot of rumours about the upcoming iPhone 5S, especially since it's expected to be launched in early September. Further suggestions have pointed to multiple colours being offered not only in the budget iPhone 5C, but more premium aluminium based offerings for the iPhone 5S.
The latest news surrounding this is the discovering and confirmation that Apple are preparing a gold or champagne coloured iPhone 5S, and sources in the know have managed to confirm the speculation.
"That's the latest I'm hearing from multiple sources after several weeks of rumors and possible component leaks suggesting the same thing. At first, I couldn't believe Apple would break from the tradition of offering the simple choice: black and white (or "slate" and "silver" if you prefer for the iPhone 5) for their flagship device. Gold simply seemed too gaudy, perhaps even tacky. But a few compelling arguments countered my disbelief. And now, upon checking, sure enough, there will be gold."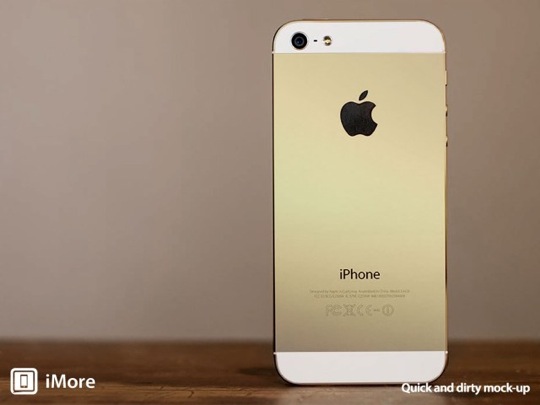 When it comes to Apple rumours, the source from TechCrunch is usually spot on. It won't be blinged-out though, it will be more of a champagne colour than gold, and will shift colour depending on how the light is hitting it.
Further news from other sources only confirm the speculation:
"Sources in position to know tell AllThingsD that Apple, after years of offering the iPhone in either black and white, will soon offer it in a gold tone as well."
iPhone 5S Coming in Gold
So it appears almost certain that the iPhone 5S will infact come in a gold colour – perhaps a further distinguishing feature to make it stand out over the other colours the iPhone 5C will be offered in.
What are your thoughts on a gold iPhone? Does it just make it look like a cheap knock-off, or does it add an element of class to the device? Let us know in the comments section below.