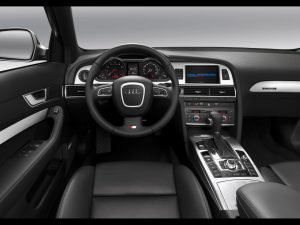 Android may soon be coming to some Audi vehicles with the help of Google. According to recent reports, the two companies will be improving Audi car dashboards with Android by adding some of the OS's features to the car.
Since this version of Android will be included in motor vehicles instead of regular electronics, the full range of Android features will not be included, but if these reports are correct, Google is hoping that it will be able to make Maps, Climate Control, and Audio available to Audi car owners through the dashboard.
This partnership appears to be a direct response to Apple's deals with numerous automakers to bring iOS into vehicles. Those partnerships have resulted in software features which sound similar to what people can expect from Audi and Google. The main difference however, is that Apple was able to lock down deals with General Motors, BMW, Honda and Daimler. By working with these companies, iOS features will be found in cheaper vehicles than the Android software which will be exclusive to the relatively expensive Audi vehicles.
Audi is looking to make its cars even more high-tech in ways that will actually compete against Google as well. The Wall Street Journal is reporting that the German car manufacturer is looking to come out with its own self driving cars which means that it will be one of the few mainstream car companies to come out with self driving vehicles outside of Google. However, Audi's self driving technology appears to be less advanced than Google's, as it will only help drivers rather than actually replace them completely like Google is promising to do.
The fight to bring mobile software into cars is unlikely to stop anytime soon. Apple is currently trying to bring iOS into the cars of twelve different companies sometime in 2014, expanding upon its current partnerships which are already ahead of what Google has been able to do or is planning on doing in the coming year.
As long as these reports are correct, Google and Audi will be unveiling their partnership during CES 2014 which takes place in just a matter of days.