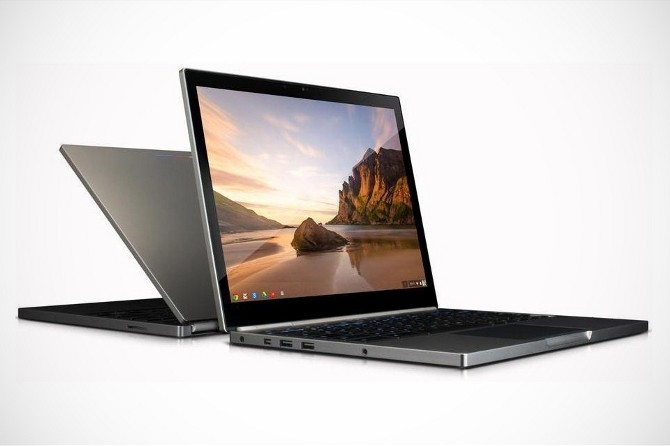 The Google Chromebook Pixel in LTE form will soon be available.  For those wanting to place an order, the Google Play Store states that the 4G Chromebook Pixel will ship by April 8th.  As of this writing it was not yet sold out as other devices so frequently do on the Play Store.  Placing your order today will set you back $1449.00.
Chromebook Pixel: For Everyone?
The Chromebook Pixel caused quite a media stir when it was released a couple months ago.  There were rumors and leaks of the laptop prior to it's release, but none that Google confirmed.  When the Chromebook Pixel was finally announced, sticker shock was in full effect.  $1,299.00 was the cost for the wi-fi only version.
Contrast that cost with the Acer C7 Chromeboox, coming in at $199.00.  But what does the Chromebook Pixel have that the Acer doesn't? A beautiful touch screen HD display.  Whether that type of display is needed on the browser based OS is to be determined.
Chromebook Pixel Specifications
The only spec that really matters on the Chromebook Pixel is it's screen.  It's 12.85 inch display, with an old school 3:2 aspect ratio.  That's a great aspect ratio for surfing the web, but not so much for watching movies.  And watching videos is where the HD display really stands out.  It's running at a resolution of 2650 x 1700, that's 239 PPI (pixels per inch).  It's bright and stunning, and did I mention it's a touch display?  That's what really separates this Chromebook from the pack.  It's an interesting choice by Google to touch enable the Chromebook Pixel, because Chrome OS isn't really optimized for touch.  In fact, it's rather frustrating to use a touch device on web sites and applications not optimized for touch operation.
The processor is an Intel Core i5 dual-core running at 1.85GHz.  You get 4 GB DDR3 RAM, and a 64GB solid state drive.  A couple USB 2.0 ports are available for your accessories, as well as a mini-display port and a SD/MMC card reader.
What Else Do I Get For This Much Money?
You will get 100 MB of LTE usage a month.  I know, that barley enough to do anything with in today's online world, but it's better than nothing.  That 100 MB is from Verizon and it's only good for 2 years.
You also get a whopping 1 TB of Google Drive storage when you purchase the Chromebook Pixel.  That's free for 3 years.  The cost of the Pixel is almost offset by what you would pay for this much storage normally.
There are lower cost Chromebooks that are selling great, and I'm not sure who the audience is for the Chromebook Pixel.  It's a nice looking laptop, but at this price point (or less) you could get a touch enabled Windows 8 Ultra Book or Hybrid laptop/tablet.
Chrome OS is the future however, and the Chromebook Pixel just might be a good investment.