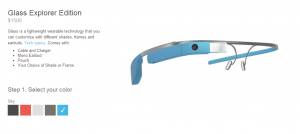 Google Glass appears to be available to absolutely anyone. Yep, that's right, anyone (in the US.)
Although an announcement regarding the availability of Glass has not been made, an order page is setup that anyone can visit.
If you head to the page, you can chose between five colors, charcoal, tangerine, cotton, shale, and sky.
Read This:Google Glass Try-On Program Confirmed
Rather than being a public retail launch, this is more of an extension of the Glass Explorer program, since the $1500 price tag has not changed. Once Glass is truly available for retail sales, it is expected that the wearable device will be sold for less than $500 and will obviously be a finished product.
After deciding on a color, there are four frames to choose from, curve, bold, split, and thin. All of the frames are being sold for free, so the only cost that you incur is the $1500.
Lastly, shades are also available (for free) in three different styles.
Read This:White Google Glass Sells Out Fast During 24-Hour Sale
Once you have built your Glass, the last step is to add it to your cart and presumably, you can then order them just as if you were buying a Google phone.
Earlier this month Glass was available to everyone in the United States for one day. Right now, the Explorer program is already so big and has helped Google to progress Glass to where it currently is, a wider test group is all that is needed before things are official.
From the one individual that appears to have ordered the Glass via the new public order page already, everything does work as one would expect.
This means that if you really cannot wait for the official retail version of Glass–which is going to be much cheaper–then you can order Glass for $1,500 if you are in the United States and are over the age of 18.
If you have anything to contribute, make sure to add it in the comments section!
Summary

: Google Glass has been made available to anyone that would like to buy it. Since this is not a retail launch, the device still costs $1500.