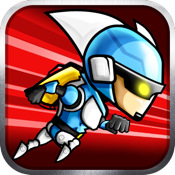 Price: $0.99 Score: 10/10 Category: Games
Oftentimes, the key to a good iPhone game is simplicity. It seems the nature of the platform is to provide quick games that provide short bursts of entertainment while users wait for a bus, have a few moments between meetings, or otherwise have a couple minutes to spare. Armor Games gives us a perfect outlet for these moments of boredom with Gravity Guy, a simplistic platform game that only requires one finger (and lightning-fast reflexes) to play.
In Gravity Guy, our protagonist runs automatically, from left to right, and it's up to you to not only get him to the end of each level, but to make sure he's not caught by the ever-pursuing enemy. The key to the game is, as the title would imply, to change the effect of gravity, allowing Gravity Guy to run either on the ground or on the ceiling and avoiding obstacles and pitfalls in the process. Stall too long on a barrier and Gravity Guy will be caught. Miss switching the gravity in time and Gravity Guy will fall to his doom.
It's as simple as that, and reminiscent of the simplicity found in games like Doodle Jump. However, if you have up to three friends on hand, you're able to play through the game in local multiplayer. In addition, Atomic Games is promising online multiplayer in a future update.
Visually, Gravity Guy is a wonderfully-animated game, with a cartoon style reminiscent of classic Capcom games like Mega Man or Viewtiful Joe. The levels are laid out cleanly and though you'll fail a lot, it never feels as though it's the fault of level design. Points are given not only based on distance, but also by speed. Burst through a level fast enough and you'll receive bonus points, all of which can be shared with your friends on Game Center.
Bottom Line: Gravity Guy is a fast-paced challenge, perfect for those with a few moments to spare.
Gravity Guy is compatible with iPhone, iPod touch, and iPad. Requires iOS 3.0 or later.