iPhone News: Original iPhone Turns 5 Years Old Today
On January 9th 2007, Steve Jobs unveiled the iPhone to the world at the Macworld Expo. "Every once in a while a revolutionary product comes along that changes everything," the late CEO said.
The "iPhone" he had just revealed was met with cautious enthusiasm as analysts and critics were unsure whether Apple could carve in a corner of the market that was then capitalized by companies such as Nokia and Researched in Motion. RIMM announced Thursday that they would be cutting 5,000 jobs, and pushing back they BlackBerry 10 phones and platform until 2013.
The first iPhone hit the shelves five years ago today, on June 29th 2007. It featured a revolutionary "multi-touch" input. One single screen, no App store, and came in 4GB for $499 and 8GB for $599. Today $599 will buy you a 32 GB iPad 3.
Visual voice-mail changed the way we check our messages, and Google's Maps app changed the way we get around. Since Apple's entry into the mobile handset market, the iPhone alone has brought Apple over $150 billion in revenue.
Though many said it was doomed to fail including Microsoft CEO Steve Ballmer, who initially laughed at the iPhone as "the most expensive phone in the world." According to Garter research, Microsoft now has a 1.9% world wide Smart Phone market share. Down from 2.6% the year before. Not so funny now huh?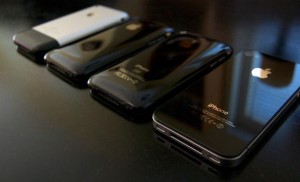 The iPhone has come a long way since 2007, it's moved from the EDGE network and will soon be on 4G LTE, growing more powerful each year, and only time will tell what we'll see later this year from the iPhone 5. So wish your iPhone a happy birthday today, and think back to what device you had before the iPhone frenzy began. Happy Birthday iPhone!