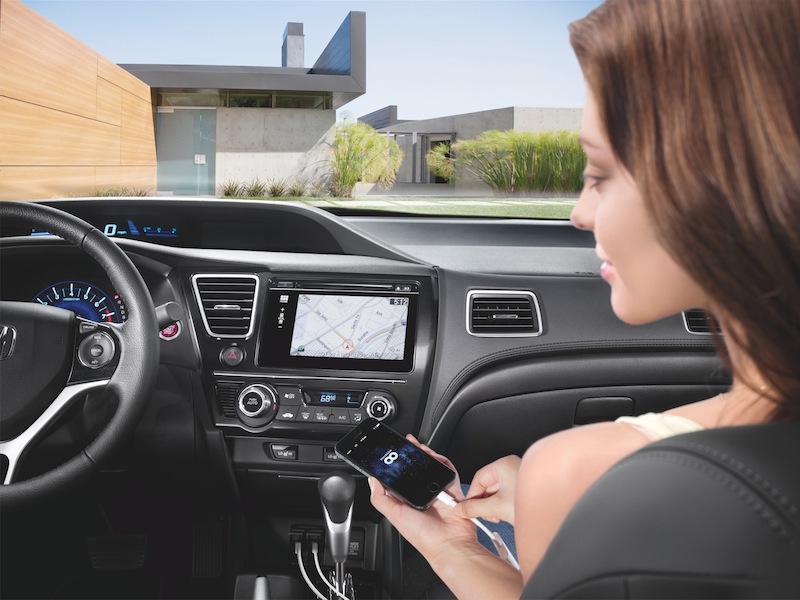 Honda was introduced enhancements to its HondaLink service that will further integrate iOS with its vehicles, bringing two new technologies it hopes will make using devices in the car easier.
These two enhancements allows users to mirror Apps from their smartphone to the new 7-inch touchscreen display Honda call their Display Audio Interface.
The enhancements to the service will be available first in the 2014 Honda Civic which launches tomorrow, and then the 2015 Honda Fit, which is expected in early 2014.
Honda have said there is still a way to go before the whole 'iOS in the Car' experience is implemented, but this is their first attempt at bridging the gap between iOS and their vehicles.
HondaLink for iOS
Honda have launched four new HondaLink Apps in the Apple App Store today that will allow iPhone 5, iPhone 5S, and iPhone 5C owners to connect to a compatible vehicles.
Connect App– With the HondaLink™ Connect App, you can search for point of interest locations; save favorite destinations; view weather forecasts; stay in touch with key maintenance information about your vehicle, including notifications on your next required service; easily set up service appointments with a quick dial to your servicing dealer; receive useful Feature Guide and Quick Tip messages about your car; contact roadside assistance agents when needed, and more.
Navigation App– Download the Navigation App onto your phone and stream an entire navigation system into your Honda dashboard display. Receive all the convenience of in-vehicle maps and routing, including continuously updated traffic information for freeways, highways, and major surface streets. Search for points of interest or specific addresses, and easily route to your selected destination. Use the steering wheel controls to interact with the HondaLink Navigation app while

driving

. Includes free annual map updates.
Aha App– Owners in the US and Canada can now reach a whole new world of information, audio content, and customer services while on the go with the free HondaLinkTM app featuring AhaTM. The HondaLink app connects quickly and easily to select Honda vehicles and provides convenient access to cloud-based services right through the vehicle dashboard, allowing you to leave your phone tucked away while driving. With this app, HondaLink brings you Aha and turns your favorite Internet content into personalized, live, on-demand radio stations.
Launcher App– Owners can open up a world of apps to use in vehicles equipped with the new HondaLink Next Generation system with the HondaLink™ App Launcher. The HondaLink App Launcher is your guide to easily find apps that are compatible with the HondaLink Next Generation platform. Use it to find other HondaLink Next Generation apps such as HondaLink Connect, HondaLink Aha, and HondaLink Navigation. The App Launcher brings these apps into your vehicle dashboard, transforming your in-vehicle experience.
Furthermore, Honda have said that the new Civic with the new Display Audio touchscreen technology will also feature Siri Eyes Free – the first Honda vehicle to implement such technology.
Implementing such technology is fantastic for iOS users and with Siri Eyes Free will help improve the safety of avoiding devices distracting drivers.
Thoughts in the comments below.