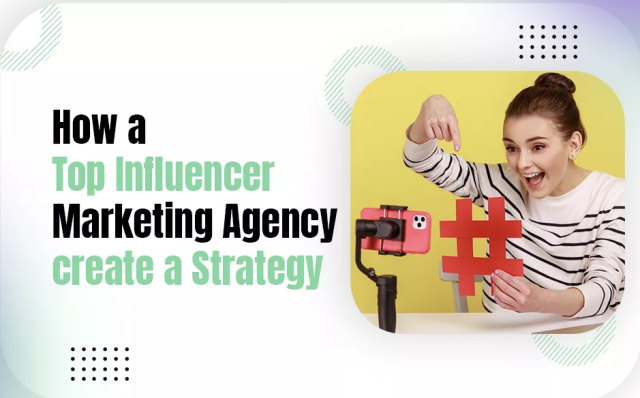 Influencer Marketing is an effective tool to reach a large audience and promote your brand or products. Using the power of Influencers in sponsored posts, product reviews, contests, and giveaways, you can reach and influence your target audience. However, with all the benefits, what makes an influencer marketing campaign truly effective is a robust strategy – usually undertaken by a top influencer marketing agency.
An agency comprises professionals who recruit ideal subject matter experts from relevant platforms. Co-create engaging content that amplifies your marketing message and attracts potential customers. Develop relationships with Influencers. Tracks the performance of your campaign and provides final reporting. Working with an influencer marketing company gives you access to a large pool of Influencers. Complete campaign management facilities and increased returns on your investment. This is a taste of what an experienced influencer marketing agency can do for your brand.
Now we understand. Your train of thought would be – an agency is surely great. But what if I'm new to the world of influencer marketing? Where do I begin? Well, we will get to that.
We have created this article to show you how to create an effective influencer marketing strategy. We also have tips that can help you in the process.
How An Influencer Marketing Platform Create An Effective Strategy
Identify the target audience: an influencer marketing agency analyzes your business to identify people that your marketing message intended to reach. By identifying the right audience, the agency can pick the right Influencers (with ability to influence your audience) for your campaign.
Understanding the brand goal: you need to be clear about your campaign goals from the start. This will allow the agency executives to plan, allocate resources adequately and measure the success later.
Identify potential influencers: An agency has access to a network of Influencers from every niche and industry. Rest assured, you will have the best opinion leaders who align with your brand and genuinely connect with your target customers.
Build relationships with Influencers: Influencers are more than your gateway to your customers. You need to go the extra mile to build a relationship with them and let them know you value their partnerships.
Create compelling content: Agency serves as a middleman between influencers and your team work to create interesting, informative, and engaging content for your target audience.
Monitor and optimize your strategy: While the agency executives plans and executes influencer marketing campaigns, they also monitor your campaign progress and make adjustments when needed.
Tip for an effective Influencer marketing strategy
Understand the power of your influencers
If I ask you to define an influencer, Your answer would be a person who shows up in social media posts to promote your brand. Well, you are half right; however, what makes an influencer different from other celebrities is their power of influence. This means shaping their followers' mindset and purchase behavior (your target audience).
Influencers spend a considerable time building a personal brand in a particular niche. Thus, they are valuable assets for finding new customers, raising awareness for your business, and promoting your products and services. Your priority as a marketer venturing on your first influencer marketing crusade is to find opinion leaders who effectively entice your target demographics, are familiar with your industry, and understand your vision and goals.
Understand your targeted platforms for influencer marketing campaigns
For starters, list the top online channels currently trending for influencer marketing. Each platform caters to a specific demographic, so you must choose one that aligns with your present needs and target customers.
Once you have your ideal platform, you need to understand the different features that come with it. Having a firm grasp on what they are and how they work can help you optimize your influencer marketing campaigns for success.
You can have one platform working splendidly now, but a few months later, another one would present more opportunities. Hence, always be open to experimenting with different platforms.
Lastly, always stay vigilant for the latest trends and best practices currently dominating your platform or industry.
Influencer outreach
So you have Influencers locked down in sight – what's next? You still have to get in contact to know them, present your ideas, convey your expectations and discuss compensation.
There are several ways to go ahead. The most common is a direct message. You can use the features on social media messenger to get in touch with your selected opinion leaders. However, a more professional approach would be to drop an email to their registered email address.
If you like, there is an influencer marketing agency called Grysta that can help you connect with Influencers. You can also go a completely different route. One where you invite Influencers to your exclusive events. This can be a great approach to establishing a genuine connection and building a relationship.
Pro Tip: Influencers tend to be busy. So don't be discouraged if you don't get a response immediately. The key is to have personalized messages (for each influencer). In your message, you should introduce your brands and present compelling points about how the influencer is the perfect fit for the job.