So, who says plain white curtains have to be boring? Forget the classic plain-looking, boring-enough-to-tear-you-up kind of white curtains. You can do much more with your plain white custom curtains to turn them into glamorous window treatments. So, do you have plain-looking white curtains?
Are you wondering if it's possible to jazz it up a little for an uplifting look? Well, we are happy to be the bearer of this good news – yes, you can spice up your white curtains. We bring you the best tips to jazz up your plain white curtains and transform them into stylish window coverings that you would love to show off.
Top Three Tips to Enhance the Look of Your Plain White Curtains
Let's say this first. If you have a chance to customize your white curtains, get right into it, even if you have to pay a little extra for it. Don't just order store-bought white curtains. If you do, they will come as plain and almost boring as you imagine.
So, instead of getting plain white curtains to add extra accessories to spice them up, customize them right away to achieve a high-end look. So, how do you customize your white curtains?
Make a Bespoke Statement with Trimmings
Looking to brighten up your plain white curtains without making major changes? Add trimmings to the borders! You will be amazed at the result. The best part is that they can work on different fabrics and styles.
Adding trims softens the finishes of the stiff edges of your curtains and adds an unmistakable bespoke character. If you have white walls and are worried that the white curtains will blend with the walls, adding trimming to the borders will let the curtains pop.
Trimmings also bring more lightheartedness to your space and remove the sober feel associated with white. The lush pom-pom trims, for example, can add a casual but elegant vibe to your curtains or custom roman shades. Consider adding handmade fringes and tassels if you want to give your refined white curtains a traditional touch.
Of course, you can consider ribbons and gimp braids as well to add a touch of elegance. Patterned or solid ribbons in the inset or borders of the curtains will reduce the staid feel associated with white curtains, bringing warmth to your space.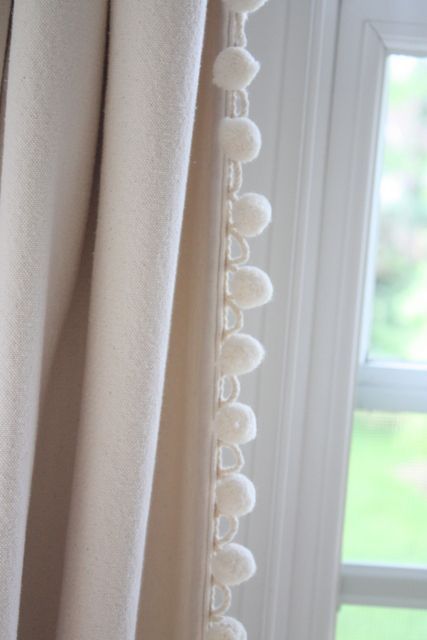 Consider Color Blocking
This method involves sewing another fabric as a band to your white curtains. The fabric can be patterned or plain and the band can be a block at the bottom or top of the curtains. It can also be a simple border around the edges. You can make the band wide to cover a third of the drape or very narrow to a couple of inches.
Patterned fabrics will lend an attractive look to your drapes. You can mix solid and patterns to achieve an eye-catching interior. You can also mix two different fabrics to add texture to your drapes. For example, you can also color block your white linen curtains with velvet of another color to give them a plush aura.
If your choice is plain fabric, consider choosing a piece in the same accent color as your décor to achieve a classic look. The good news is that the possibility is endless since you can pair white with any color tone. If you want to make a statement piece, consider bold fabric colors. For a soft and cozy feel, subtle pastels would be great.
Layer up your Window Treatments
If you already got store-bought white curtains before reading this post and are not ready to make any additions to them, you can still do something to enliven them. You can layer your curtains for maximum benefits. This is a simple way to minimize the sobering aura of plain white curtains.
Layering your white curtains with another set of custom curtains or roman shades is a nice touch with numerous benefits. For one, it adds dimension and depth to your room. Secondly, it offers better insulation, which can be very helpful during extreme winters or summer. The additional layer provides more privacy and light control.
You can add a valance in another pattern or color to make the curtains pop. Apart from the style the valance adds, it also helps to hide the hardware while transforming the white curtains into something more elegant.
We recommend using the same type of valances for your window treatments, even if you use different window treatments in different color schemes across your home. Another option for layering up your window treatment is to install roman shades on the inside of the window.
Since it is close to the window, roman shades function as perfect insulators because they can ward off cold and heat at the window's entrance. You should choose an accent color or pattern that contrasts with the plain white curtains, for instance, you can layer white sheer curtains with a darker shade of blackout curtains.
Another option is to include panels on either side of the curtains in a complementing or contrasting tone. This creates a frame for the plain white curtains and pushes them out. With this, you heighten the fullness of the curtains and make them stand out.
Final Thoughts
These are the top tips to jazz up your plain white curtains. Apart from making your white curtains more attractive, they also let you incorporate your favorite white color efficiently into your interior.