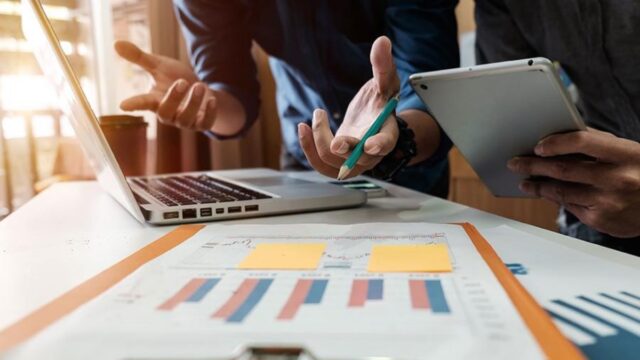 There is no doubt that you'll need technology in your business if you want to do things fast and right, but this doesn't mean that you have to sell a kidney to have tools to work. There are accessible ways to obtain equipment in a cheaper and easier way.
And the best part is that with the use of technology on a daily basis, you can produce more, so the investment you make has a good return. You can use different ways to fund your tech upgrade, from a merchant cash advance to business loans, learn more about this in this post from caminofinancial.com.
Take your company to the future now and get more clients, more capacity to respond to the demand, and have happier and more focused employees. That is the recipe for a successful company.
Don't Buy, Rent
There is a trend out there that fits perfectly into a tech-saving strategy that can do wonders for you. Stop buying things you'll eventually have to sell and rent them.
PCaaS
Personal Computer as a Service or, as some providers prefer to call it, Device as a Service is a business model that big tech companies are using these days. They provide you with the exact amount of equipment and software that you need and give you tech support for a monthly fee. You get renewed equipment every three to five years and this way, you don't end up with obsolete gadgets.
Not only do you save in equipment purchasing, but also having state-of-the-art devices has the advantage of improving the productivity of your team in 21 hours a month and a 60% less energy consumption per computer.
Good Broadband
Save up to an hour a week in productivity with a team that works fast and without internet issues with good broadband. Speed is key and, even when this means a higher bill, it also means more work done. Take a look at your hired plan, you could cut on landlines and increase speed if that suits your needs, and you can even lease routers from your supplier to have a maximum speed in every corner of your office.
Have it all as a package
Yearly payments can help you cut down on technology expenses, you just have to look for the right plan for your company.
Licenses
When you hire licenses for task management apps like Zoho, you can access all its tools that will help you increase your team's productivity. But not only that, you can save in meetings and conference rooms if you rent them and, paying a yearly license will help you save up to two months of the monthly fee. The same goes with stock photos, video conferences, and other licenses.
Use Collaborative Tools
Instead of buying a lot of licenses for a package like Office, you can use the collaborative tools that G Suite mails can give you. This is a two for one investment. You pay for the mails and also get text processing tools, spreadsheets, presentations, and a lot of other tools that your team can learn to use to have a better way of working among each other and at the same time.
Enterprise Deals with Suppliers
If you need smartphones for your team, for example, you can ask your account executive mobile provider to give you a better deal if you hire, say, 10 enterprise lines instead of 3 regular ones. This is a much better deal where you'll end up saving money and having a connected team to work in the field.
Use these ideas to build your technology strategy and consider a merchant cash advance to get into the game as soon as possible. Try to measure your response time to clients' demand now and after three months of your investment so you can see the difference.