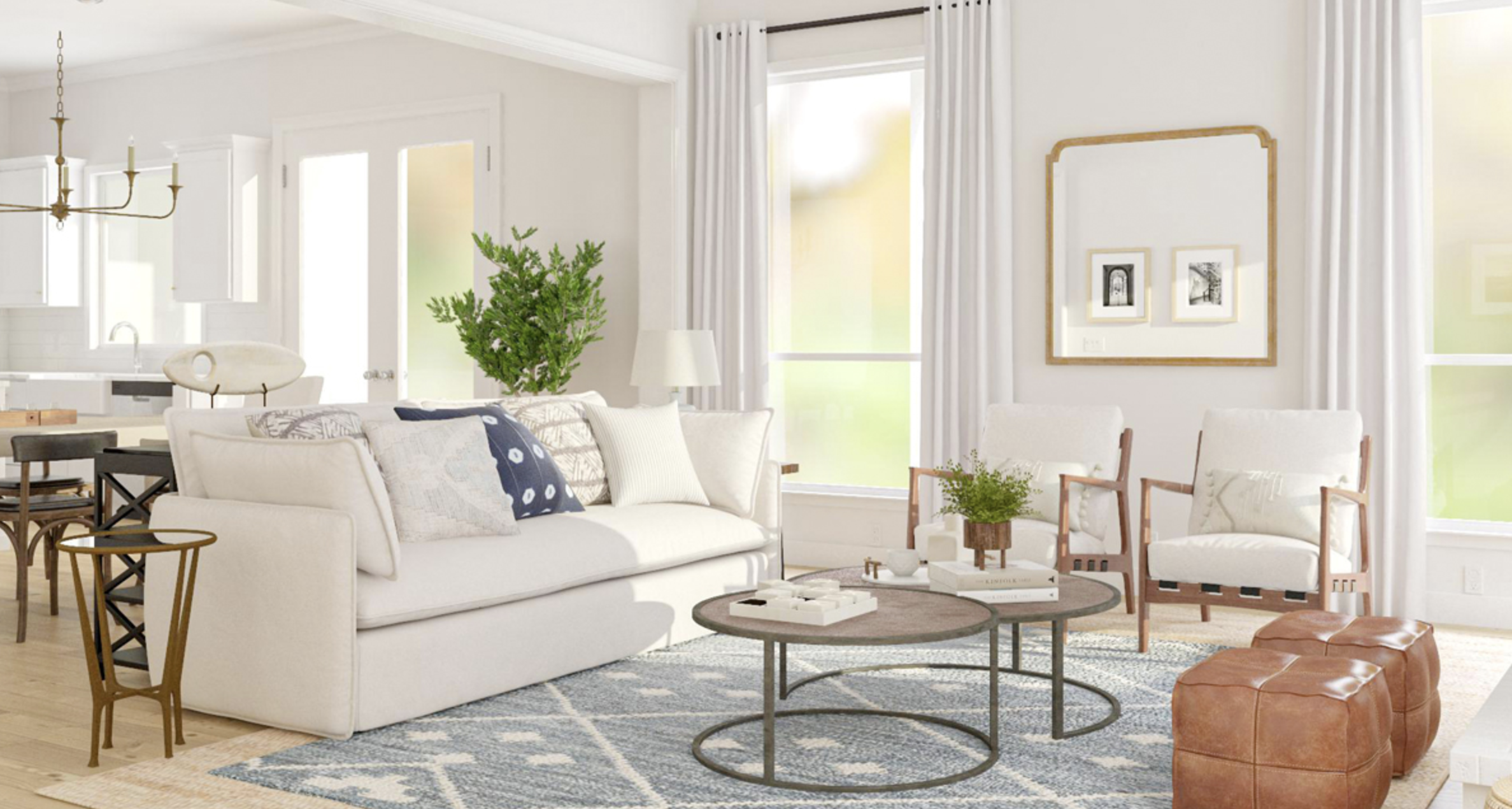 The living room is one of the main arteries of your home. Outside of the kitchen, it's probably the room that you use the most. And it should be a cozy retreat…not a bland, uninspired room.
If you have a small footprint, don't worry. There are still plenty of creative design tricks and tactics you can use to maximize this space. You'll just have to get creative!
7 Tips for a Cozy Living Room
If cozy is the vibe you're seeking, having a small living room isn't necessarily a bad problem. Small and cozy share a close relationship and you can use this to your advantage. Here are a few creative suggestions:
1. Splurge on Your Sofa
There's nothing wrong with being on a budget, but if there's one place where you should splurge, it's on the sofa. (The sofa is the place where you'll spend countless hours. It's also the largest furniture piece in the room – so it gets most of the visual attention.) Find something that you absolutely love, even if it's a bit more expensive than you planned. You'll never regret buying a beautiful, comfortable sofa.
2. Buy a Chunky Throw Blanket
Make your living room even cozier by adding in some chunky throw blankets and plenty of pillows. The thicker and chunkier, the better! This is one popular option – though you can also find them in most high-end retail stores.
3. Install an Electric Fireplace
Nothing says cozy quite like a fireplace! If you already have one, you'll just want to make sure it's in a safe operating condition. Don't have one? It's easier to install a fireplace than you might think.
When installing a fireplace into a compact space, an electric fireplace is the ideal option. It's small, doesn't require a chimney, and can be placed on virtually any wall and at any height. They also tend to be very cost-effective.
4. Be Smarter With Lighting
The fastest way to improve the coziness of your living room is to do away with harsh overhead lighting and integrate warmer options into the design.
"No one wants to sit in their living room in the evening with the overhead light on full – the bright glare makes you feel alert and awake, not rested," interior designer Cate St. Hill writes. "Install a dimmer switch on your lights and layer your lighting with multiple light sources to create a warm, inviting setting."
In interior design, there are three types of lighting: ambient, task, and accent. Layering these together gives you greater control over the ambience and makes it possible to illuminate different focal points.
5. Light a Candle
A truly cozy living room delights all of the senses – including your sense of smell. Placing a variety of candles in your living room will allow you to turn on ambience at any time. (This is another area where you probably shouldn't feel guilty spending a little money. There's a huge difference between cheap candles and high-quality ones.)
6. Ensure Privacy
Natural light can do wonders for a small living room. It makes it feel bright and airy. It also provides beautiful views (depending on the setting). However, it's not always conducive to privacy.
If your living room has windows that face a street or neighbor's house, you'll want privacy options. The easiest way to do this is by hanging natural linen curtains over your windows. This allows you to pull them back during the day and slide them over the openings during the evening hours.
7. Make it Personal
There's nothing wrong with drawing inspiration from online sources and interior designers, but be careful not to copy everything. A living room is a very personal space. Take advantage of this by incorporating a variety of personal items, mementos, and pictures. These elements will make you feel at home, no matter how long you've lived there.
Home is What You Make It
It doesn't matter if you have a 7,000-square-foot sprawling mansion in the suburbs or a 600-square-foot apartment in the middle of the city – home is as warm, welcoming, and cozy as you make it. Don't let size hold you back. Embrace your home and use it to live well.