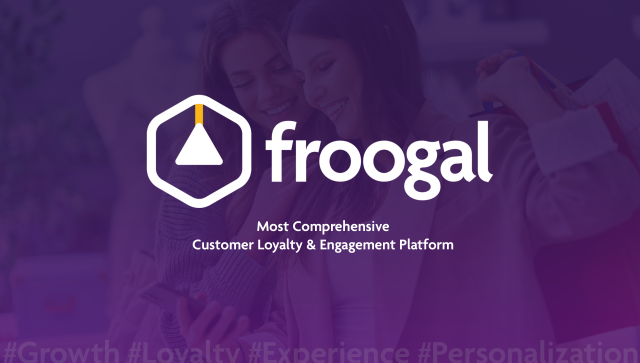 Business owners know how important engagement, establishing trust and loyalty is when it comes to succeeding with constantly demanding expectations of end consumers and with the digital shift. To boost your chances of gaining these things, you can use a comprehensive tool such as Froogal.
Froogal is a Customer Loyalty and Engagement Platform that can provide the perfect components to drive Customer Centricity forward. It has highly configurable tools to launch contextual, emotional based rewards / loyalty programs, track customer experience to reduce churn, and severable other engagement tools that helps you run targeted campaigns, referral programs etc.
Froogal enables incremental revenues for different businesses among industry verticals like Restaurants, Retail, Fashion, E Commerce, Travel and Hospitality, Auto Repair etc.
How Froogal Can enable Brand Loyalty & Engagement
More than 90 percent of consumers stick with brands that can deliver a personalized experience.
Froogal helps you collect critical Customer data from different touch points of the business-like POS, digital applications, or any apps to enable 360-degree understanding of your customers.
Froogal then offers brands to launch a personalized rewards program to drive retention it could start from as simple as a points based system with different perks offered based on purchasing behaviors of consumers in tiers or even gamify the rewarding based on different activities made by the consumer that improves loyalty. These could be launched as your brand's Rewards App or integrate tightly into one of your existing apps to increase further experience for your customers.
The fact is we all know that customers always care about how your products are offered and delivered, Froogal helps you collect the feedback instantaneously from your customers via different channels and helps you channelize on how you care for your customers to reduce further churn.
With the data gathered from and across, Froogal helps you segment customers and deeply understand your customers to take right informed decisions, while you can trigger them with targeted offers and communications while personalizing as per the different behaviors of customers to drive engagement and more incremental revenues.
Froogal has many other add-ons solutions that empowers your business – You can manage and launch Referral programs, Gamification Campaigns, Gift Cards, Interactive digital invoices etc. Omni-channel is the key, Froogal helps brands at every step of growth while helping you enable Omnichannel experience for your customers.
Engaged shoppers tend to make more visits, even spend more, and also advocate more about your brand, compared to those that are 'disengaged'. Froogal has the means to be instrumental to your success with its cutting-edge technology platform and expertise.
Froogal offers a Free consultation so you can learn more about how to boost your brand engagement and loyalty.