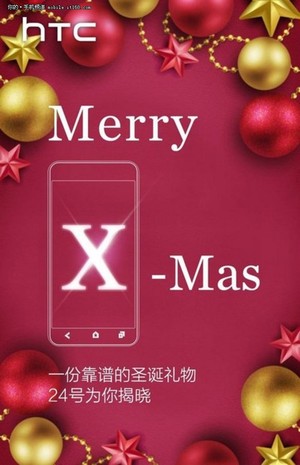 HTC could unveil the HTC One X9 tomorrow. Specifications indicate it could just be the right present for Christmas and the New Year!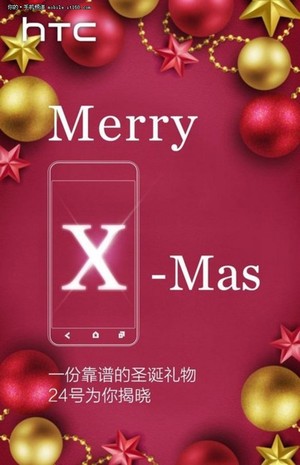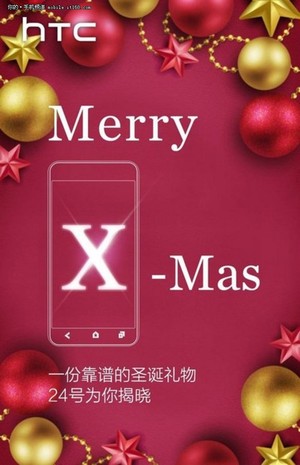 Taiwan-based HTC has released a teaser image in Chinese micro-blogging site Weibo. The big 'X' mark along with highlighted capacitive buttons suggest the teaser is about December 24 release of HTC One X9.
HTC One 9 has made its appearance in various leaks over the past month. Photos suggest the One X9 comes in a metal body with front facing speakers and capacitive buttons. SIM cart slot is on the right along with the volume up and down button. 3.5 mm headphone jack is at the top and USB connector at the bottom.
The hardware specifications are confirmed. HTC One X9 has been certified by China's TENAA, which is a telecommunications equipment certification body. The handset is powered by a 2.2 GHz octa-core processor with 2GB RAM. The internal memory is 16 GB, although expandable.
The display sports 5.5 inch IPS panel with 1920×1080 pixel resolution. It runs Android 5.0.2 out of the box and includes 5MP front and 13 MP rear camera.
The HTC One X9 comes within months of its flagship One A9 release. HTC One A9 received mixed responses, with its biggest criticism being that it was a copy of Apple's iPhone. Though HTC strongly denied this. The One X9, which features a new design, may offer an opportunity for critics to rethink.
HTC, which once set standards in smartphone design and engineering, has seen a rapid decline. Since its short-lived reign at the top of the US market share, when it accounted for 24 percent of smartphone shipment, the stock prices have dropped by 90 percent. The fresh design and handsome specifications of One X9 offers hope of revival of HTC's fortunes.
Most of the earlier rumors suggested an early 2016 release for X9. The regions where it will be released is still unknown. Rumors remain rumors. We just have to wait till tomorrow to find out!
HTC One X9 Specifications, according to TENAA
Processor: 2.2 GHz octa-core processor (mostly MediaTek MT6795 SoC)
RAM: 2 GB
Storage: 16 GB, expandable
Platform: Android 5.0.2 out-of-the-box
Camera: 13 MP rear camera, 5 MP front camera
Display: 5.5 inch IPS display with 1920 x 1080 pixel resolutions
Battery: 3000 mAh
Dimensions: 153.2×75.9×7.99 mm, weighing 174 g
Connectivity: Bluetooth, USB, GPS, GSM, TD-SCDMA, TD-LTE, 4G LTE FDD, and WCDMA
Color: Silver, Gray
SOURCE: GSMARENA VIA: Himanshu