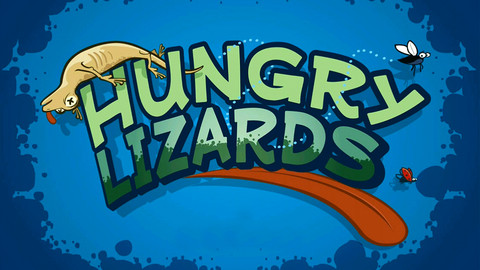 [app id="525416212″]
Hungry Lizards is an iPhone game developed by Basic Function. In this surprisingly addictive action game, players are tasked with helping some cute lizards devour some delicious bugs.
Despite some appearances to the contrary, Hungry Lizards is quite challenging. Learning the mechanics is simple, but actually mastering the timing is the thing that takes some finesse. Basically, you tap the screen when you want to jump, and then tap again when you want to use the lizard's tongue to capture a nearby fly.
In Hungry Lizards, you can play as either Spike & Lizia. These two lizards need to catch as many bugs as possible before the sun goes down. In the game, a bug famine has struck the world, which means you need to travel to many different global locations to find bugs.
There are tons of different ways to play this simple game, which keeps Hungry Lizards from feeling stale or repetitive. You can play alone, or you can play in real time with a friend.
In 2-player mode, you can either play in versus mode or co-op mode. There are also tons of achievements to unlock, which further encourages you to play the game and ups the "addictiveness" of Hungry Lizards.
With so much variety in terms of different game modes, coupled with challenging-yet-simple gameplay, Hungry Lizards is a great game for anyone in need of a casual time-waster. I can see myself using this fun game to make time fly while I'm waiting for the bus or the train.
Suitable for both kids and adults, Hungry Lizards is a really fun little game. If you like cute critters and games with a high replay value, this is worth your time and attention.
Hungry Lizardsis compatible with iPhone 3GS, iPhone 4, iPhone 4S, iPhone 5, iPod touch (3rd generation), iPod touch (4th generation), iPod touch (5th generation) and iPad. Requires iOS 5.0 or later. This app is optimized for iPhone 5.